The SMCM Physics program received the 2017
Award for Improving Undergraduate Physics Education
from the American Physical Society (APS).  The award "seeks to recognize excellence in undergraduate physics education and support best practices in education at the undergraduate level."
The SMCM Physics program  is
highlighted as a role model
in the report, "
Phys21: Preparing Physics Students for 21st Century Careers
." The report, published by the Joint Task Force on Undergraduate Physics Programs (J-TUPP) and convened by the American Physical Society (APS) and the American Association of Physics Teachers (AAPT), selected the College as one of five case studies of successful, innovative physics programs.
 Jeremy Perrin was a 2013 finalist for the American Physical Society's LeRoy Apker Award for undergraduate physics achievement. Only two recipients are selected nationally each year.
Physics Department Awards
All award recipients of department awards and scholarship are selected by committee. There is no application process.
Department Award in Physics
Established in 1993 to recognize a student who has demonstrated academic excellence and achievement in the discipline.
Recipient(s):
Tommie Day '17
Hannah Lewis '16
Laura Andre '15
Jonathan Morris Kwolek '14
Jeremy Perrin '13
Roger Ding '12
Brian Tennyson '11
Marty McHugh '10
Daniel Powell '09
Geneva Boone Award for Outstanding St. Mary's Project
Rebecca Prasher '12
Dan Powell '09
Brian Keating '03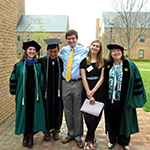 Arvind Srinivasan '17 won the Myron G. Marlay Award for Outstanding St. Mary's Project in Science.
Erin Knutson '15 received the Weitzel Research Award in 2014. The award supported her research with Dr. Frank Narducci (NAWCAD) and Profs. Grossman and Adler (St. Mary's) on laser-cooled atomic beams for atom interferometry.
Prof. Grossman received the Norton T. Dodge Award for Scholarly and Creative Achievement by a Junior Faculty Member in 2010.
Prof. Adler was the Aldom-Plansoen Professor (2005-2007) and the Steven Muller Distinguished Professor of Science (2007-2011).