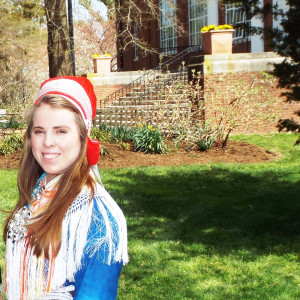 17 April 2015 – Indigenous people worldwide pin their hopes on democracy and its central political ideal that equality of opportunity without exclusion is the same for all. In Northern Europe, the Sámi people, the only European group categorized as indigenous peoples by the UN, have struggled for long to gain respect, recognition and a degree of autonomy. Today, Sámi people in Norway, Finland and Sweden have their own representative organizations, Sámi parliaments.
On April 16, 2015 the Center for the Study of Democracy sponsored a visit of Ms. Yvonne-Marie Miniggio, one of four young people in the Norwegian government's Sámi Pathfinder Program. During her visit that was hosted by College Archivist Kent Randell, Ms. Miniggio visited a sociology class and gave a public presentation on Sámi culture and language.
The Sámi people are indigenous people who live in the Northern Europe and the Kola Peninsula. For centuries they were subject to discrimination by dominant cultures. Today, the Sámi in Scandinavia are protected under international conventions of indigenous peoples.
The majority of the Sámi living in Scandinavia live in Norway. Their estimated number is 50,000. There are about 8,000 Sámi living in Finland and 20,000 in Sweden.