Text: Maija Harkonen with
Kevin Kelley and Cecile Walton
Research: Yonah Zeitz
Photos: Bill Wood
Issues of Criminal Justice: Race- or Poverty-based?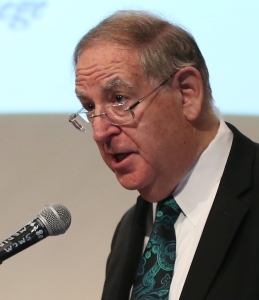 "We cannot survive without sound law enforcement. At the same time, we need law enforcement that is appropriately respectful of individual rights and liberties and is applied in a nondiscriminatory manner," stated the Honorable Peter J. Messitte, U.S. District Judge for the District of Maryland in his keynote address at the Justice & Inequality Roundtable, titled "Issues of Criminal Justice: Race- or Poverty-based?" The roundtable took place at St. Mary's College of Maryland on October 6, 2016. It was organized and sponsored by the Center for the Study of Democracy at SMCM.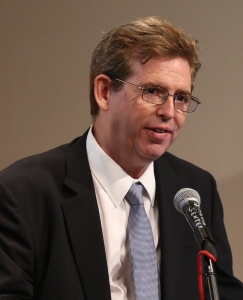 Dr. Charles Holden, Professor of History and one of the founding members of the Center, introduced the Hon. Judge Messitte, noting that he had served for more than 30 years as a Judge: 24 years as a U.S. District Judge for the District of Maryland and eight years as a Judge on the Circuit Court for Montgomery County, MD. In addition to currently sitting as Senior Federal Judge, he is also Adjunct Professor of Comparative Law at the American University Washington College of Law. Throughout his career, Judge Messitte has given presentations about legal and judicial reform activities in various parts of the world, most frequently in Latin America, especially in Brazil.
Dr. Maija Harkonen, Executive Director of the Center, welcomed the speakers and attendees, noting that the forum was the last major event under the Center's annual theme of economic inequality that had included a number of forums, workshops, speaker events and cultural programs in 2015 and 2016, including a two-day forum in Baltimore, "United Not Divided: Economic Inequality and the Opportunity Gap". She thanked Dr. Tuajuanda Jordan, President of St Mary's College, for initiating the practice of annual themes and also for her continuous support of the Center.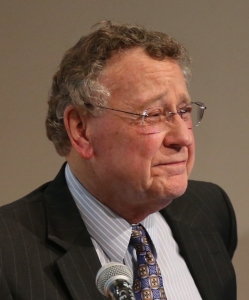 President Jordan was not able to attend the roundtable, but she had prepared a written statement, thanking the audience "for engaging in this important dialogue as the country grapples with ever-increasing racial tensions and an escalating economic divide."
The forum moderator was Hon. James A. Kenney, III, a Senior Judge of Maryland Court of Special Appeals. His many committee memberships include Chair of the Judiciary's Retired and Recalled Judges Committee, Judicial Council, Judicial Ethics Committee, and the Committee on Laws of the Maryland State Bar Association.
Judge Kenney has taught at SMCM since 1964 and served on the Board of Governors of the Southern Maryland Higher Education Center. He served as President of St. Mary's College of Maryland Foundation from 1993 to 1999.
Our Justice System Needs Reforms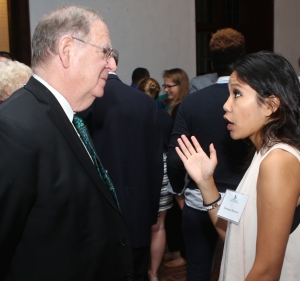 Judge Messitte laid the foundation for the evening's discussion by noting that we need to recognize that police and law enforcement actions are not perfect and never will be. "There will always be considerable room for improvement and, as the unfortunate encounters of recent months and weeks demonstrate, such reforms are more urgent than ever," he said.
But where should we start the reform? Judge Messitte explained the various steps in a criminal trial process, from the first encounter with the police to bail hearings, sentencing, and release, noting that during each phase, there is potential for discrimination and therefore room for improvement. But it is not only African Americans that find themselves discriminated against; the second major group is the Latinos, Judge Messitte reminded the audience. Other minorities also face disrimination.
Racial Profiling and "Stop and Frisk"
An individual's first encounter with the police may already involve bias. In New York City, the police have used "stop and frisk" tactics for years allowing officers to stop and question pedestrians or drivers, and then frisking them for weapons and other contraband. The vast majority of those stopped have been African-Americans or Latinos. In 2013, a judge ruled that New York City's stop-and-frisk program was carried out in a manner that violated the U.S. Constitution.
The "stop and frisk" tactics and racial profiling around the nation have been heavily criticized for being discriminatory and targeting minorities. Still, according to federal law, police officer can perform a frisk when he or she has reasonable suspicion that the person is armed, posing a danger to the officer and the surrounding area. American Civil Liberties Union's (ACLU) has found the same kind of racial disparities in stop and frisks in Chicago, Boston, Philadelphia, and Newark among other major cities.
During his presentation, Maryland Public Defender Paul B. DeWolfe cited research by Professor Charles R Epp from the University of Kansas, who had found that in Kansas City, a black man who is under 25 years old has a 28 percent chance of being stopped by the police while a white man has only a 12% chance.
No Money for Bail? Then Jail
The disparity between the haves and the have-nots in the American system of justice is blatantly clear when looking at bail practices that keep poor defendants locked up for minor offenses because they cannot afford to pay for bail. With the bail paid, the defendant can go free before his or her trial. Those who don't have the money to make bail may get a bond from a bail bond company against collateral such as a house or car. If they are too poor to have assets and cannot make bail, they will have to wait in jail until their trial.
According to Equal Justice Under Law, a non-profit civil rights organization, there are 500,000 people in American jails because they are too poor to make a monetary payment for their release. Most of these cases are before the state courts. "In the federal courts, money bonds have virtually disappeared," Judge Messitte noted.
"Is the requirement of bail more strictly imposed on persons of color or ethnicity or on those of limited economic means? Judge Messitte asked.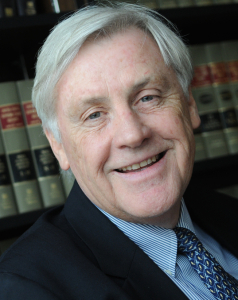 Maryland Public Defender Paul B. DeWolfe noted during his presentation that studies have consistently shown African American defendants having higher bond amounts than white defendants. They are also detained at higher rates than whites. "In Maryland, African Americans make up 30 percent of the general population but make up 70 percent of the prisoners", he said. "In Baltimore, African Americans comprise about 60 percent of the city residents but 90 percent of the Baltimore jail inmates."
Race and poverty often overlap, making it difficult to eliminate racial disparities without addressing economic inequalities. The Office of Public Defender can mitigate but not eliminate these disparities. The institution is based on the Sixth Amendment of the United States Constitution that states: "In all criminal prosecutions, the accused shall enjoy the assistance of counsel for his defense."
"In Maryland and also in many other states, there are adequate public defender services without regard to race and these services are available only for poor defendants," Judge Messitte noted.
Mandatory Minimum Sentences
Mandatory minimum sentencing laws require binding prison terms of a particular length for people convicted of certain federal and state crimes. They are set by Congress and the state legislatures and most of them apply to drug cases. Do these mandatory minimum sentences have any racial, ethnic or economic implications?" Judge Messitte asked.
According to Public Defender Paul B. DeWolfe, federal prosecutors are almost twice as likely to file charges carrying minimum sentences against black individuals than whites accused of the same crime. Mandatory minimum sentencing laws do not work to eliminate bias, he said. In Maryland, 81 percent of individuals sentenced under these laws in Fiscal Year (FY) 13 and FY 14 were black.
The prison population in the United States grew by 700 percent between 1970 and 2005, Public Defender DeWolfe noted. With only 5% of the world's population, America has more than 20 % of its prisoners," he said.
How Do Judges Face Their Own Biases?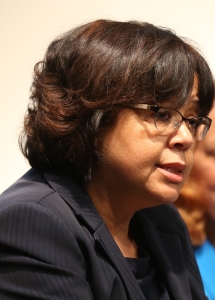 "Justice is blind, "we are told. The traditional image of Lady Justice depicts her wearing a blindfold and holding a set of scales and a sword in her hands. The blindfold represents objectivity and impartiality. Wealth, race, ethnicity, gender, age and class should not influence how justice is served.
There is a wide gap between the ideal that Lady Justice represents and the reality. Most judges strive for impartiality and objectivity in their work but they, too, are products of their environment.
Judge Melanie Marva Shaw Geter from the Maryland Court of Special Appeals noted that it is important for judges to confront their own biases to prevent them from interfering with the cases they handle. Judge Geter used her own life experience as an example.
As a black American, Judge Geter has faced racial discrimination since she was a child. In the mid-20th century, racism was commonplace and severe. Her parents decided to become "blockbusters," or black families who moved into all-white neighborhoods, seeking to break the bonds of segregated society. She recalled the situation as difficult, saying she could not play with the little girl next door. Vandalism against their house was routine and never investigated by the police. One day, while she was out with her family, their house was burned to the ground. All of this was solely because of their skin color.
Judge Geter said her experiences altered her worldview, biasing her in understandable ways. Judges must routinely face their own biases, she asserted, and live in perpetual knowledge of them.
The Untold Story: Bias Against Latinos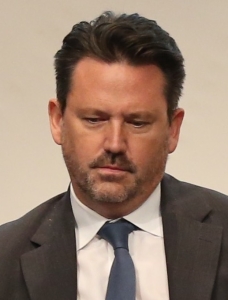 During his time as a civil rights lawyer and criminal defense attorney, Paul Kiyonaga has worked with numerous Latinos and seen discrimination up close. He recalled one case in particular, involving his defense of an 18-year-old Salvadoran man whom we will call Perez. Perez was an undocumented, unemployed resident with a newborn child.
Perez was originally charged with participating in an armed robbery with 4 cohorts, but the prosecutor decided to pin Perez with MS-13 affiliations. MS-13 is a particularly brutal gang with Salvadoran origins. The prosecutor argued that Perez was wearing baggy clothing, he had an implicative tattoo associated with the gang, and two of his affiliates who aided the mugging were MS13. However, Kiyonaga argued that this evidence was circumstantial at best, an ipso facto claim that should have no bearing on the case.
He went on to describe the implicit biases of the justice system working against Perez. For instance, in a community where nearly half the inhabitants are undocumented residents, court witnesses become impossible to find. Even then, the language barrier is preventative. Being in a land where you don't understand the legal system because you don't speak the language creates grave problems for the Latino community. In addition, the jury is implicitly biased against gang activity, making it even more difficult for Perez go free.
Despite these challenges, Perez was acquitted, the only one of the five robbers. One month later, he was gunned down in Silver Spring. Kiyonaga ended with a sober reminder: "Anyone who says they are not biased is not paying attention."
Reforms Underway
In recent years, Americans have criticized the United States justice system as unfair and discriminatory. "Our justice system has flaws, but some are being amended," said Hon. Karen H. Abrams, Circuit Court Judge for St. Mary's County, Maryland. "While these reforms will by no means solve injustice, they should give us hope and vision for a path forward," she said.
During his keynote address, Judge Messitte had already discussed some of the most recent reforms. In May 2016, Maryland Governor Larry Hogan signed the Justice Reinvestment Act, which seeks to reduce Maryland's prison population by reducing the mandatory minimum sentences for non-violent drug offenses. Other proposals include introducing more community policing and making the police force more diverse. According to the Department of Justice, 83 percent of FBI agents are white.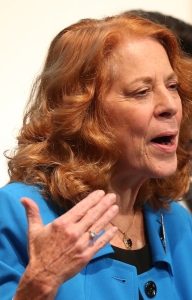 Reforms are also taking place in Maryland and St. Mary's County," Judge Abrams said. She explained how Pretrial Diversion (PTD) programs work in the county. PTD programs have been used in the United States since the 1960s. They are programs that provide alternatives to prosecution and are used to help reduce recidivism and conserve criminal justice resources. Participants who successfully complete the program will not be charged or, if already charged, will have the charges against them dismissed.
In Maryland, PTD services are administered on a county-to-county basis and may include community service or completing classes. Their use is motivated by research that show they can lower recidivism and reduce costs to the criminal justice system.
According to Judge Abrams, St. Mary's County is assisting those in pretrial by helping them find jobs, mental health treatment, or educational opportunities. In addition, detention centers have recently focused on rehabilitation to reduce recidivism. Judge Abrams ended her presentation by saying that economics create a racial imbalance in our justice system, but reforms can help to reduce that divide.
Questions from Audience
During the Q & A segment, the audience asked the panelists to address such issues as alternative punishments for non-violent drug offenses, the reasons for high recidivism, and the need to reform the practice that requires potential employees to check a box that asks if applicants have criminal records at the beginning of the application process.
The issue of fair treatment of Latinos in the criminal justice system was also discussed. Latinos make up 17 percent of the U.S. population, but comprise 20 percent of people in state prisons for drug offenses and 37 percent of people incarcerated in federal prisons for drug offenses, according to Drug Policy Alliance, a New York City-based non-profit organization.
One student in the audience asked: "Why does the media pay relatively little attention to Latinos in prisons?" Attorney Kiyonaga suggested a few explanations. Latinos are less likely to be gunned down than African Americans, thus they get less media coverage. In addition, the Latino community may not be as vocal as the black community in demanding impartial justice. The language barrier may also prevent them from making a case for their treatment as emphatically as other minorities are doing. In case of illegal immigrants, there are also concerns about drawing too much attention to those accused of crime in fear of deportations not only of those in jail but also their friends and families.
Scott Sanders and Nico Moore
Sheriff Cameron and Jake Corfman
Kevin Kelley and Yonah Zeitz
Pat Jackson, Judge Abrams, Judge Kenney
Katherine Smith, Krista Cavanagh, Professor Helen Professor Michael Cain and Harry Weitzel, Chair of CSD Board Daugherty and Pat Jackson
Michael Cain and Harry Weitzel, Chair of CSD Board of Advisors