The following is a list of TFMS theaters, studios, and media production labs located in the Montgomery Hall Fine Arts Center (MH). TFMS shares Monty Hall, as Montgomery Hall is known by students, with art and music. Studios, practice rooms, and media labs are populated day and night by students working alone or in groups on creative projects. The synergy created by the mix of disciplines produces a lively environment for student growth and achievement.
Bruce Davis Theater
The Bruce Davis Theater is a multi-functional space. The location of many TFMS acting and performance classes and of all main stage productions, the Theater can seat up to 200, depending on its configuration (proscenium, thrust, arena, or alley).
The White Room
This White Room is a student-run and organized performance space seating approximately 25-50. Used also as a laboratory for the technical/design classes and occasionally as a rehearsal space for main stage productions, The White Room functions principally as a laboratory for student-produced work.
The Dance/Movement Studio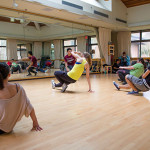 The Dance Studio accommodates all TFMS dance and movement classes, and occasionally other department offerings, as scheduling demands. Principally a classroom/laboratory space for the department's dance and movement curriculum, the Studio may also be used as an experimental performance space. The Studio is equipped with permanent barres, a mirrored wall, dressing rooms, and a floor of maple. Street shoes must be removed before entering this space.
---
Media Production
TFMS resources in media production provide students with access to a variety of video production and post-production technology. Production classes and St. Mary's Projects have access to Canon Vixia HF-S30 and Canon XA-10 HD cameras, Smith-Victor lighting kits, and Audio-Technica microphones, along with supporting production equipment. Intermediate and advanced students have access to a Blackmagic Pocket cinema camera and a Zoom H-6 portable audio recorder. Post-production equipment is located in the Montgomery Hall Pro-Lab and the TFMS Editing Room as well as in the Media Center, located on the third floor of the College Library.
Montgomery Hall Pro-Lab and Learning Lab
The Montgomery Hall Pro-Lab includes 10 22″ Intel iMacs w/Mac OS 10.5, Adobe CS3 Suite (Photoshop, Illustrator, Flash, Dreamweaver, Fireworks), Maya 2008 Complete, Quicktime Pro, and Final Cut Studio (Final Cut, Motion, DVD Studio Pro, Soundtrack, Compressor) with dedicated JVC SR-DVM600 3-in-1 MiniDV, 40GB hard disk drive, and DVD player/recorder combo decks. The adjacent Montgomery Hall Learning Lab is equipped with 20 17″ Intel iMacs w/Mac OS 10.5, Adobe CS3 Suite (Photoshop, Illustrator, Flash, Dreamweaver, Fireworks), ProTools LE, and several flatbed scanners.
Media Center, Baltimore Hall Library
Students may also use the resources of the Media Center at the Library. The Media Center is equipped with state-of-the-art technologies for classroom and student use as well as a large screening room for the viewing of films. It also includes a dark room, a graphics studio, audio/video editing and recording studios, and some study carrels equipped with audiovisual equipment. Media services personnel are available to assist students in locating equipment and operating it safely.