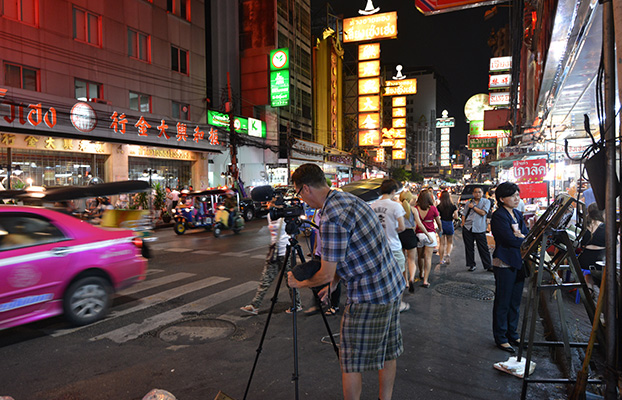 TFMS students produce films in conjunction with classes, including our two levels of media production, as St. Mary's Projects, or for the sheer fun of it. Opportunities for becoming involved as directors, performers, or behind-the-scenes assistants are plentiful and are publicized on our bulletin boards, social media, local media, fliers, and through email distribution lists.
Some students make short or even full-length fiction films, some make experimental films, and others make documentaries on a variety of local and international subjects. In the recent past, teams of students have collaborated on such projects as a full-length original thriller, short expressionistic films, documentaries about the local housing crisis,  on child gymnasts and campus feminism, and ethnographies on Ghana, Nicaragua, and Senegal.
Recent sample of student filmmaking projects:
One Way Town (2016), an SMP animation in film and media studies, by Eli Ayres. Winner of the 2017 Visionary Award (or "Best in Show") at the international Visions Film Festival & Conference, hosted annually by the Film Studies Department at the University of North Carolina Wilmington.
Self, Designed (2013), an SMP short in film and media studies, by Steven N. Bradford
A Living Museum (2012), an SMP documentary short in film and media studies about the historical recreation ship, the Maryland Dove, and her crew, and The Importance of Being an Oyster: The Marylanders Grow Oysters Program (2011), a documentary produced for the St. Mary's River Watershed Association, by Emily Sillcox
Were They Here before the War? (2012), a 13-minute abstract documentary SMP in film and media studies about Point Lookout State Park, the site of a Civil War camp for Confederate soldiers and The Process of Drone (2012), an experimental documentary short about drone music, by Justin Foreman
One Big Step (2012), an SMP project in photography and secondary education; The Slave Dwelling Project — Joe McGill (2011), a documentary produced for Sotterley Plantation, a National Historic Landmark, by Ryan Gugerty
Faces of the Appalachian Trail (2011), a documentary SMP in film and media studies, by Danny Ruthenberg-Marshall
Ponding: A St. Mary's Ritual Dissected (2011), an SMP documentary in film and media studies, by Jamie Phillips
TFMS Film Series
In addition to our theater season, we produce an annual film series. The TFMS Film Series brings to campus internationally acclaimed, award-winning filmmakers who screen and discuss their work, visit media production and film studies classes, and meet informally with TFMS students during their two-three day residencies at the College.
The inaugural film series (2008), for example, featured films and filmmakers from the exciting vanguard of experimental documentary, while subsequent series have examined such diverse topics as environmental film, alternative forms of animation and collage, ethnographic and feminist film, hybrid documentary, and minoritarian film, including work from the seminal Black film movement, the L.A. Rebellion.
Filmmaking Resources / Media Production
TFMS resources in media production provide students with access to a variety of video production and
post-production technology. Production classes and St. Mary's Projects have access to Canon Vixia HF-S30 and Canon XA-10 HD cameras, Smith-Victor lighting kits, and Audio-Technica microphones, along with supporting production equipment. Intermediate and advanced students have access to a Blackmagic Pocket cinema camera and a Zoom H-6 portable audio recorder. Post-production equipment is located in the Montgomery Hall Pro-Lab as well as in the Media Center, located on the third floor of the College Library.
Montgomery Hall Pro-Lab and Learning Lab
The Montgomery Hall Pro-Lab includes 10 22″ Intel iMacs, Adobe CS5 Suite (Photoshop, Illustrator, Flash, Dreamweaver, Fireworks), Maya 2008 Complete, Quicktime Pro, and Final Cut Studio (Final Cut, Motion, DVD Studio Pro, Soundtrack, Compressor) with dedicated JVC SR-DVM600 3-in-1 MiniDV, 40GB hard disk drive, and DVD player/recorder combo decks. The adjacent Montgomery Hall Learning Lab is equipped with 20 17″ Intel iMacs, Adobe CS5 Suite (Photoshop, Illustrator, Flash, Dreamweaver, Fireworks), ProTools LE, and several flatbed scanners.
Media Center, Baltimore Hall Library
The Media Center is equipped with state-of-the-art technologies for classroom and student use as well as a large screening room for the viewing of films. It also includes a dark room, a graphics studio, an audio/video editing and recording studio, and some study carrels equipped with audio-visual equipment. Media services personnel are available to assist students in locating equipment and in operating it safely.
MH 111
A meeting room/screening room for film and media studies classes, MH 111 seats 30+ students and is equipped with brand new film/video projection and sound systems. Special permission from the chair of TFMS is required to book the space for classroom or extracurricular use.