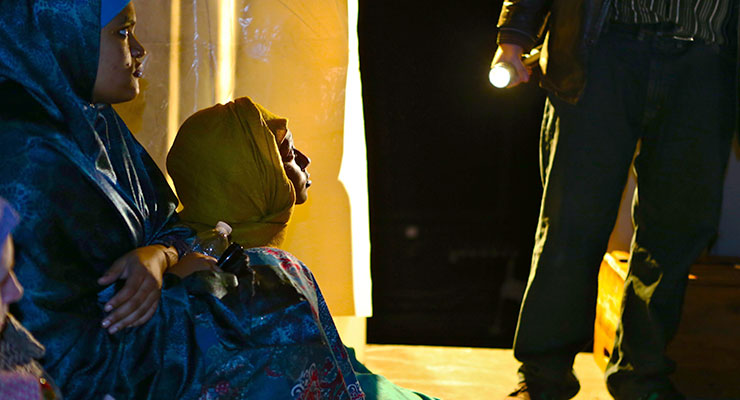 TFMS supplies the resources for a diverse range of production work on stage. Live performance opportunities include stage productions and dance concerts directed by faculty members, guest artists, and students, performed in a variety of spaces, including the Bruce Davis Theater (main stage), the dance studio, and The White Room.
Opportunities to perform, design, stage manage, and crew are available to all students, regardless of their majors, and auditions are regularly publicized by email, postings on campus-wide bulletin boards, and by social media. Theater production seasons are arranged to maximize opportunities for working on or attending productions that represent the diversity of theatrical activities across cultures and history.
Performance Opportunities / Directing, Stage Management, and Design
Theater Productions
As part of our annual season, TFMS produces three main stage shows (major productions) in the Bruce Davis Theater. Directed by the faculty or guest artists, these productions encompass the widest possible range of theatrical forms, genres, periods, and experiment.
Each season offers students opportunities to perform, design, stage-manage, or crew a range of dramatic material, staged in various configurations (proscenium, thrust, arena, or alley). The department encourages and relies on student involvement – backstage, on stage, and front-of-house – to stage each production, and recognizes that without student assistance the season would not be possible.
Auditions
Auditions for main stage theater productions are open to the entire campus community, and casts typically include students from a mix of major programs. Many of our key players in shows and films have been historians, biologists, psychologists, and other majors or double-majors. Opportunities for performing on stage, working behind the scenes, or getting involved in film productions are equally available to all students, regardless of their major.
The department frequently casts first-year students in main stage shows, even in leading roles. One of the benefits of a small college is that so many opportunities are available to everybody, regardless of class standing. You can become involved in whatever you are qualified to do, almost instantly.
Musicals
Due to our mutually busy production and concert schedules, we try to collaborate with the department of music on a musical every three or four years. Past musicals have included A Funny Thing Happened on the Way to the Forum, Blood Brothers, Happy End, The Threepenny Opera, and The Colored Museum. More recent main stage seasons have featured Hair, Cabaret, and Studs Terkel's musical-of-the-working class, Working.
Students have also produced musicals and musical revues in The White Room and even in the Bruce Davis Theater, most recently for performances of Next to Normal.
Directing Opportunities
The department offers several opportunities to students who would like to direct. Any student can propose to direct a show in the student-run lab, The White Room, and may propose to direct a fully-mounted production for the main stage season as a St. Mary's Project. Students often serve as assistant directors of faculty-directed main stage shows.
Stage Management and Design
The department offers opportunities to students who would like to stage manage or design scenery, lights, costumes, and/or makeup for main stage productions or in the student-run lab. Students may even propose a St. Mary's Project to design a fully-mounted production on the main stage during their senior year.
Visiting Guest Artists
The department complements its production season with occasional guest artist residencies and/or shows designed specifically for touring to community schools.
Guest artists may be contracted to direct or design main stage shows, or may be members of regional, national, or international theater companies, such as Happenstance Theater, The San Francisco Mime Troupe, or Bread and Puppet Theater, who hold workshops and performances for the College and St. Mary's communities.
TFMS Talk-Backs
A unique feature of the department's main stage season is the inclusion of post-performance discussions, which are generally scheduled for one night during the run of a show and are open to all St. Mary's College audiences and the local community. Discussants address a wide variety of subject matter, including those relating specifically to production techniques (for example, staging) and to the social, political, cultural, and philosophical underpinnings and implications of the performed text. These discussions promote dialogue among audience members, invited panel participants, and those who have worked on the production (director, designers, choreographer, movement coach, actors, crew), and provide bases for arriving at and formulating informed, educated responses to the staged event.