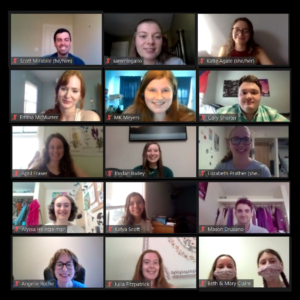 On March 26, 2021, 16 students were inducted into the St. Mary's College of Maryland Chapter of Psi Chi, the National Honor Society in Psychology. Dr. Kristina Howansky gave an invited address to the new members.
Congratulations to Gabrielle Backus, Jordan Bailey, Mary Claire Basso-luca, Mason Drusano, Julia Ann Fitzpatrick, April Fraser, Alyssa Jo Heintzelman, Erin Nicole Lanham, Spencer Minor, Elizabeth Mlinek, Elizabeth Prather, Angelie Roche, Claire Ruble, Katerina Scott, Constantina Thomakos, and Holly Vallone!
Pictured above: Some of the inductee cohort along with Psi Chi adviser Dr. Scott Mirabile and chapter officers.
Photocredit: Angela Draheim