This guide is a ready resource for managing and responding to emergency and crisis situations.  The safety of the St. Mary's College of Maryland community is predicated on advanced planning and environmental awareness.
Please take a few moments and familiarize yourself with recommended procedures for responding to certain emergencies.
There is also an Emergency Procedure Quick Guide that may be posted for easy reference.
The safety of our community is our first priority.
Contents:
Emergency Procedures Quick Guide
Alert Systems
St. Mary's College of Maryland utilizes the following platforms to notify the campus of emergency conditions and provide updates of any ongoing situations and/or conditions.
Campus Shield SEAHAWK ALERT text notifications
External Campus Alert System (Siren & Voice Instructions)
https://support.smcm.edu/kb/article/90-emergency-notification-system
College Email
Twitter

@SMCMPublicSafety
@StMarysMD
If you should receive an alert through one or more of these systems:
Assess the alert, if it applies to your location follow the instructions provided in the alert.
Isolate yourself from potential danger or threats, utilizing this guide.
Bomb Threats
Upon receiving a bomb threat by phone:
Remain calm
Listen Carefully
Do not interrupt the caller

Try to keep the caller talking.
Keep the caller on the phone as long as possible.
Write down exactly what the caller says.

Try to determine:

The time the device is set to detonate.
The location of the device.
A description of the device.
Type of explosive utilized.
How the device is detonated.
Did the caller place the device.
Why was the device placed.
Name, address and phone number of the caller.
Organization the caller represents.
Age, gender and voice characteristics of the caller.
Background noises during the call.

Ensure that the Office of Public Safety is notified at ext. 4911
Do not erase threats if left on voicemail.
Notify your supervisor.
Do not pull the fire alarm.
Upon receiving a bomb threat by mail or email:
If received by mail do not touch unnecessarily.
If by email do not delete.
Notify the Office of Public Safety at ext. 4911 immediately.
Notify your supervisor.
Civil Disturbance or Unplanned Demonstrations
The College supports the rights of persons to self-expression, dissent, and to demonstrate provided that demonstrations are lawful, do not disrupt normal College activities, or do not infringe upon the rights of others.  Most demonstrations are peaceful.  People not involved in protests and/or demonstrations should carry on business as usual.  It is the illegal acts which may arise during these activities that concern the College.
If protests and/or demonstrations disrupt normal College activities, result in damage to College building or grounds, or threaten the safety of others:
Remain calm.
Notify the Office of Public Safety at ext. 4911.
Avoid obstructing or provoking protesters.
Alert persons in the area of the situation.
If prudent lock doors and windows and close blinds.
Follow the directions of responding Public Safety Officers.
Fire Alarm/Emergency Building Evacuation Protocol
College buildings will be immediately and totally evacuated whenever building fire alarms are sounding.Procedures
If safe to do so, shut off all machinery and equipment in work areas.
Do no attempt to fight fires.
Close doors and windows if time permits.
Leave buildings using the nearest exit.
Do not use elevators.
Feel doors before opening them.
Crawl if there is smoke.
Call the Office of Public Safety, ext. 4911 and/or 911.
Do not re-enter buildings until instructed to do so.
If you are trapped:
Stuff the cracks around doors with towels, lab coats, throw rugs, etc. to keep out as much heat and smoke as possible.
Go to windows and if there are no smoke or flames outside open windows. Signal for help by hanging a jacket, towel, etc. out of the window.
Call the Office of Public Safety at ext. 4911 and let them know your exact location.
Do not attempt to jump from multi-story buildings.
Gather at the following designated assembly areas:
Residence Building Assembly Areas
Caroline Hall: Montgomery Hall patio                                Queen Anne Hall: Wooded area behind the building
Dorchester Hall: Montgomery Hall patio                           Townhouse Crescents: Grass area near DPC
Lewis Quad: grass area near DPC                                        Townhouse Greens: DPC patio or Admissions Field
Prince George Hall: Montgomery Hall patio                      Waring Commons: grass area by DPC or Club Field
Academic and Administrative Building Assembly Areas
Admissions Office and Annex: Admissions Field               Library: grass area by Campus Center/Parking Lot K
Anne Arundel Hall: HSMC parking lot                                 Margaret Brent Hall: grass area by Campus Center
Baltimore Hall: grass area near Campus Center                M. P. O'Brien Athletics & Recreation Center: Game Field
Calvert Hall: Kent Hall steps                                                  Montgomery Hall: Admissions Field
Campus Center: grass area by Library                                  Public Safety: next to Kent Hall
Cobb House: Queen Anne parking lot                                   Physical Plant: grass area behind the MPOARC/Lot T
Ethel Chance Hall: Admissions Field                                    River Center: next to Kent Hall
Glendening Hall: Sycamore Lawn (quad)/Lot Z                 Schaefer Hall: Admissions Field/Glendening Lawn
Goodpaster Hall: Admissions Field/Game Field                St. Mary's Hall: Front lawn
Kent Hall: next to Calvert Hall/River Center lawn             White House: River Center lawn
Hazardous Materials – HAZMAT
HAZMAT incidents may be:
Indoor and outdoor fuel spills
Solvent or other chemical spills
Chemical or biological spills in laboratories and buildings
Chemical odors
Natural gas odors and leaks
Fire in a facility involving highly toxic chemicals, infectious substances or radioactive materials.
If you witness a HAZMAT spill evacuate the spill site and warn others to stay away.
Procedures to take in the event of a HAZMAT spill:
Leave the area of the spill first and go to a safe location nearby.
If you have the proper training and protective gear:

Follow proper cleanup procedures and use proper protection
Limit the spread of the material
Manage the generated waste appropriately
Isolate the spill area and post signs as necessary
Notify your supervisor

Contact the Office of Public Safety at 240-895-4911 to report:

The nature of the incident
The name of the HAZMAT if known
The exact location
Injured or exposed individuals
If you suspect or witness a release of hazardous material to the environment call the Office of Public Safety.
Infrastructure Failures
Infrastructure failure can involve:
Utilities
Elevators
Fire detection and suppression systems
Heating, ventilation and air conditioning
To report infrastructure failures call:
Physical Plant, ext. 4287 Monday-Friday during normal business hours
Office of Public Safety, ext. 4911
Electrical Failures
Turn off equipment to reduce the potential for damage caused by power surges.
Evacuate laboratories because of the inability to operate fume hoods.
Plumbing Failures/Pipe Ruptures
Turn off electrical equipment to minimize the potential for electrocutions and equipment damage.
Elevator Failures
Persons trapped in elevators should use emergency telephones in elevators to call the Office of Public Safety, ext. 4911.
Do not attempt to crawl through escape hatches or force elevator doors open. Only trained mechanics, elevator technicians, emergency response personnel may conduct elevator rescues.
Fire Detection and Suppression System Impairments
Report all failures and impairments to the Office of Public Safety, ext. 4911
Heating, Ventilation & Air Conditioning (HVAC) System Problems
Strange odors or unit failures should be reported to the Physical Plant, ext. 4287
Report of large amount of smoke from an HVAC unit should be immediately reported to the Office of Public Safety, ext. 4911.
Propane Leak
Open windows if possible to increase ventilation.
Turn off all possible ignition sources.
Do not turn on any lights or electrical equipment.
Use phones away from the area of the leak.
Call the Office of Public Safety, ext. 4911.
Medical Emergency / Personal Injury
All medical emergencies occurring on campus should be reported immediately by calling SMCM Office of Public Safety @ 240-895-4911 and/or 911 (9-911 from a campus phone) or the Campus Shield safety app. Medical emergencies may include, but are not limited to, the following:
Any life-threatening situation
Loss of consciousness
Chest Pain
Excessive bleeding
Seizures
Head injury
Compound fractures
Allergic reactions with shortness of breath, excessive swelling
Ingestion or inhalation of a toxic substance
Quick Response
Dial 240-895-4911 or ext. 4911
Dial 911 (9-911 from a campus phone).
Do not move victim unless safety dictates.
If trained, use pressure to stop bleeding.
Use CPR if no pulse and not breathing.
State that medical aid is needed and provide the following information:
Location of injured person (eg. which building, room, number, etc.).
Type of injury or problem.
The individual's present condition.
The sequence of events leading to the emergency.
Medical history and name of injured person's doctor, if known.
The phone number where you are.
Stay on the phone with the dispatcher.
Public Health Emergency
A public health emergency exists when campus air, drinking water, or food is contaminated with one or more hazardous agents such as chemicals or pathogens that could or will result in disease or injury impacting large numbers of people. Likewise, other campus wide incidents such as pest infestations or failure of the sewage system also have the potential to result in disease or injury that would be significant to communities.
Actions will be taken to notify the college community of these conditions as soon as St. Mary's College of Maryland becomes aware of an outbreak of such an emergency.
The following types of outbreaks or epidemics represent public health emergencies:
Communicable disease: widespread disease for which vaccination is not available;
Foodborne disease: gastrointestinal illness;
Waterborne disease: microbiological or chemical agents;
Injuries resulting from infestation with insects, rodents or other pests (e.g. bedbugs);
Infectious disease resulting from contact with sewage or other human wastes.
Student Health Services, the Office of Resident Life, Public Safety, Environmental Safety, and Facilities Services each have a responsibility to be aware of the public health significance of utility failures, reports of unusual diseases or injuries, or an unusual frequency of certain diseases and injuries. St. Mary's College of Maryland will work closely with local and state agencies such as the Maryland Department of Health and Mental Hygiene to respond quickly and effectively to public health emergencies that occur at St. Mary's College of Maryland or in the neighboring community.
Severe Weather / Natural Disaster
Violent weather is very unpredictable, but with the aid of modern technology the approach of such weather is often known in advance. Every reasonable effort will be made to warn the college community when severe weather is eminent.
Tornado / Hurricane / High Winds
Stay indoors.
Move away from windows and open doors (preferably into an interior hallway).
If possible, move to the lowest level of the building.
Do not use elevators, electrical equipment or telephone.
Sit on the floor and cover your head with your arms to protect from flying debris.
Await instructions from campus officials.
Earthquake
Stay indoors.
Crawl under a table or desk or brace yourself by standing in an interior doorway.
Do not use elevators, electrical equipment or telephone.
Do not use open flame.
Be prepared for aftershocks.
Await instruction from campus officials.
Floods
Stay indoors.
Never attempt to walk or drive through flood waters.
Await instructions from campus officials.
Winter Storms / Blizzards
Stay indoors.
Do not walk or drive during the storm and risk becoming stranded.
Await instructions from campus officials.
Shelter in Place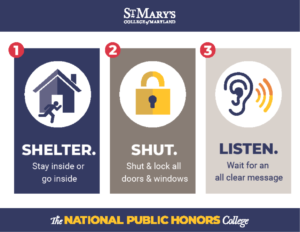 Sheltering in place means that individuals must seek immediate shelter in buildings or residences halls and remain there until College officials and/or law enforcement personnel issue additional instructions or declare that emergency conditions have ended.
In the event that a shelter in place order is given due to criminal activity on or near campus the following procedures will be followed:
Remain calm
If you are outside, seek cover in the nearest unlocked building.  Do not wait until you see the danger to seek shelter.  Resist the urge to go outside and "check it out".
All students, faculty, staff and visitors will immediately seek shelter in the nearest room with a door (locking door if available).
Faculty and staff, if safe to do so, are requested to provide direction and assistance to students and visitors by directing them to a location where they may seek shelter.
Close and lock all windows and doors. If the door has no lock, barricade with available items.
If possible cover all interior windows and door windows.
Stay away from all doors and windows, move to interior walls and try to remain out of sight of potential threats.
Turn off all lights.
Remain quiet, silence all cell phones.
Do not leave until instructed to do so by law enforcement personnel.
Cooperate with law enforcement. Keep your hands empty and visible when interacting with them.
Monitor cell phones to receive emergency alerts through Campus Shield safety app.  Report any suspicious persons or activities to Public Safety @ 240-895-4911 and/or 911.
If you are in an open area such as a dining area, seek concealment behind a solid object such as a door, file cabinet or counter. Remain quiet and wait for law enforcement to arrive and assist you.
Once in a secure space the space needs to remain secure.  If there are individuals outside the secured door that seek to enter they may endanger you and others.  Use good judgement.
Do not leave until an "all clear" is received.
Suspicious Letters and Packages
Anyone receiving mail and packages should regularly, reasonably and prudently examine those materials before opening them.  Characteristics that may cause letters and packages to be treated as suspect are:
Letters and packages delivered by someone other than regular carriers.
Packages wrapped in string.
Excess use of securing material, i.e. tape.
Packages that are lopsided, heavy sided, or have lumps, bulges or protrusions.
No postage, non-cancelled postage or excessive postage.
Handwritten notes such as: "To Be Opened in the Privacy of…", "Confidential", "This is Your Lucky Day"
Packages or letters that have no return addresses or nonsensical return addresses.
Letters or packages arriving before or after phone calls asking if the items were received.
Improper spelling of common names, places or titles.
Leaks, stains or protruding wires, foil, string, tape, etc.
If you discover a suspicious letter or package:
Stop immediately. Do not open items any further.  Do not move items or put them in water or confined spaces such as desk drawers or filing cabinets.
Do not shake or empty the contents of any suspicious envelope or package.
Place the envelope or package in a plastic bag or some type of container to prevent leakage of contents.
If you do not have any container, then cover the envelope or package with something, i.e. clothing, paper, etc.
Notify the Office of Public Safety at ext. 4911.
Isolate the mailing and get people out of the immediate area.
Wash your hands with soap and water.
Notify your supervisor.
If possible, list all people who were in the room or area, especially those who had actual contact with the substance.
If the letter or package has been opened:
Do not try to clean up any powder or substance, but rather cover the spilled contents.
Leave the room and close the door or section off the area to prevent others entry.
Wash your hands with soap and water to prevent spreading a substance to your face.
Notify your supervisor.
Remove heavily contaminated clothing as soon as possible and place it in a plastic bag.
If possible, list all people who were in the room or area, especially those who had actual contact with the substance.