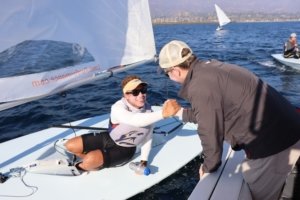 Boucher and Reineke Win LaserPerformance Singlehanded National Championships
SANTA BARBARA, CALIF. (November 10, 2019) – The LaserPerformance Men's and Women's Singlehanded National Championships, co-hosted by Santa Barbara Yacht Club and the University of California Santa Barbara wrapped up today with Leo Boucher (West River, Md.), a sophomore at St. Mary's College of Maryland, winning the Men's Championship and Sophia Reineke (Fort Lauderdale, Fla.), a junior at Boston College, wining the Women's Championship.

The championships included the top 18 men and top 18 women singlehanded sailors in the nation. LaserPerformance, the title sponsor, provided full rig Lasers and Laser Radials for the events. Marlow Ropes was a supporting sponsor for the events.

The racing on Saturday saw sunny skies, nice breeze starting around 7-10 knots and building to 10-12 knots with 15 knots at the highest point. Ten races were completed for the men in the full rigs and nine for the women in the radials. The competitors sailed in the Santa Barbara Channel on windward-leeward courses with four legs.

Today there was a short delay in the start of racing due to light winds. Racing got started with the women in the radials around 11 a.m. in light and spotty conditions. The competitors finished up the event with 14 races total in each fleet just before 3 p.m.

Boucher was sitting in third place after racing yesterday and moved up to win the event today. He placed second in this championship last year making this the second time that St. Mary's has placed in the top two at this event. This year he is the winner of the Glen S. Foster Trophy, awarded to the first place finisher.

"The competition in the fleet was tough and Leo did a great job hanging in there because he didn't have many chances to pull away from the fleet," says Bill Ward, director of sailing at St. Mary's College of Maryland. "In his last race he tried to stay ahead of the close competition and keep his lead. Leo sails Lasers outside of school and was able to practice at school for the two qualifiers leading up to this event with his teammates."

Finishing three points behind Boucher in second place is Richard McCann, a sophomore from the University of Miami, and he received the George Griswold Trophy. The top four places all finished within five points of each other.

Sophia Reineke is the winner of the Janet Lutz Trophy, awarded to the first place finisher in the women's championship. She finished the regatta nine points ahead of second place, Christina Sakellaris, from Stanford University, who won this event last year. Reineke held onto the lead throughout the regatta, but only by a small margin.

"This event is always challenging," says Reineke, "everyone out there is more than capable of winning – I think there were three other women on the course who have won this championship before," she says. "I am happy with my performance, I came to the regatta with three things to work on and I kept them in my head all weekend to achieve. One thing that has been really great is all of the support from my team members at home — even though it's a singlehanded regatta, they have been behind me and sent messages and videos of support."

"I'm extremely proud of my team and of course, Sophia," says Greg Wilkinson, head coach for Boston College.

To learn more about the regatta, the competitors and find results visit the event website: https://2019singlehanded.collegesailing.org/

Men's, Final Results (14 races):
1. Leo Boucher '22, St. Mary's College of Maryland, 65
2. Richard McCann '22, University of Miami, 68
3. Gage Schoenherr '21, U.S. Coast Guard Academy, 69
4. Charles Carraway '22, Hobart and William Smith Colleges, 70
5. Connor Nelson '23, Brown University, 85
6. Richie Gordon '21, U.S. Coast Guard Academy, 99*
7. Paul Didham '21, California State University Long Beach, 99*
8. Vir Menon '20, Christopher Newport University, 116
9. Carrson Pearce '21, U.S. Merchant Marine Academy Kings Point, 118
10. Gavin McJones '23, U.S. Naval Academy, 138
11. John Kirkpatrick '22, Stanford University, 144
12. Javier de Urdanibia Panos '21, Boston University, 151
13. Malcolm Benn Smith '21, College of Charleston, 155
14. Steven Leuck '20, College of Charleston, 159
15. Cameron Giblin '23, Tulane University, 187
16. Jonathan Bailey '22, University of Wisconsin, 208
17. Erik Skeel '20, University of Washington, 224
18. Patrick Schmidt '21, University of Wisconsin, 239
*Head-to-head tie breaker

Women's, Final Results (14 races):
1. Sophia Reineke '21, Boston College, 59
2. Christina Sakellaris '21, Stanford University, 68
3. Charlotte Rose '22, Jacksonville University, 76
4. Talia Toland '21, Tufts University, 90
5. Lilly Myers '23, Cornell University, 98
6. Clara Gravely '21, Queens University, 101
7. Hallie Schiffman '23, Stanford University, 104
8. Elizabeth Shanahan '23, Boston College, 107
9. Louisa Nordstrom '20, Yale University, 111
10. Haddon Hughes '19, Georgetown University, 120
11. Hannah Steadman '20, Brown University, 121
12. Jessica McJones '20, U.S. Naval Academy, 131
13. Carly Broussard '21, Georgetown University, 144
14. Alexandra Talbot '22, Tufts University, 177
15. Ciara Rodriguez-Horan '22, Tulane University, 195
16. Maartje van Dam '23, Jacksonville University, 219
17. Siri Schantz '23, Ohio University, 229
18. Rebekah Janssen '21, University of Wisconsin, 245

Results can be found here for the Women's racing and here for the Men's.

Drone footage from Greg Smith is available here.

Eric Andresen provided photos for the events and can be found here.

Contact: Jennifer Mitchell |Toile à Voile for ICSA | media@collegesailing.org | 970-216-7072 m.

The ICSA sponsors and partners through the 2018-19 season are: LaserPerformance (www.laserperformance.com), title sponsor of "LaserPerformance Men's and Women's Singlehanded National Championship," title sponsor of "LaserPerformance College Sailing Team Race National Championship" and Official Boat Supplier of the ICSA Spring National Championships. Sperry (www.sperry.com), title sponsor of the "Sperry College Sailing Women's National Championship". Gill North American (gillna.com), title sponsor of "The Gill College Sailing National Championship". Quantum Sail Design Group (www.quantumsails.com), official sponsor of the "Quantum Women's College Sailor of the Year". Marlow Ropes (www.marlowropes.com), presenting sponsor of the "Marlow Ropes College Sailor of the Year Award" and "Official Rope of College Sailing". US Sailing (www.ussailing.org), "The Robert H. Hobbs Sportsman of the Year Sponsored by US Sailing" and "The 2019 College Sailing Live Coverage Presented by US Sailing". Professional Boats (www.professionalboats.com/), official sponsor of the 2019 ICSA Spring National Championships.