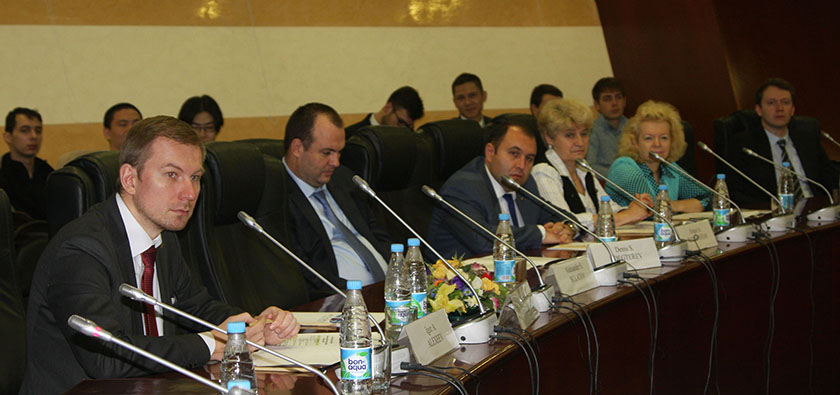 Executive Director of the Center, Dr. Maija Harkonen, was invited to give a presentation Governing the Use of Outer Space: Debris Management at the 10th Anniversary International Conference: "Problems of Global Governance: Economy, Politics, Security" at Moscow State Institute of International Relations (MGIMO) on November 25-26, 2016.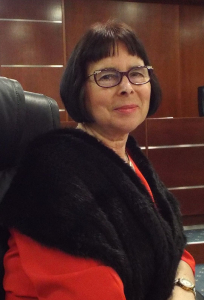 Professor Tatiana Shakeleina, Head of the Department of Applied Research of International Problems at MGIMO, whose academic work focuses on Russian-U.S. relations, organized the conference convening experts from various universities and public sector entities in Russia, Europe, Southwestern Asia and the United States.
MGIMO is Russia's oldest and most prestigious institute of higher education for preparing students for careers in international relations and diplomacy. It operates under the auspices of the Russian Foreign Ministry. The chairman of the MGIMO Board of Trustees is Sergei Lavrov, Russian Foreign Minister.
On the second day of her visit, Dr. Harkonen spoke at the seminar on North-South relations at the Russian University of People's Friendship (RUPF) on the new forms of development assistance that focus on fostering innovation and entrepreneurship and support small- and medium-sized enterprises in an effort to spur sustainable socio-economic development.
The Russian Ministry of Education has ranked RUPF as the country's third-best university. During the Cold War years, its stated objective was to help developing nations mainly in Asia, Africa, and South America by providing higher education and professional training. Today, there are more than 28,000 students from about 150 countries studying at RUPF.
U.S.-Russian Cooperation in Space
Dr. Harkonen's paper at the MGIMO conference on global governance focused on the benefits of international cooperation in space. She noted that, during the current period of increased tensions between the United States and Russia, it is easy to forget that the two countries have enjoyed a long history of cooperation on areas such as nonproliferation and nuclear security. Their space exploration relationship has lasted for over forty years, with scientific results that both countries can view with pride.
Greetings from a U.S. Astronaut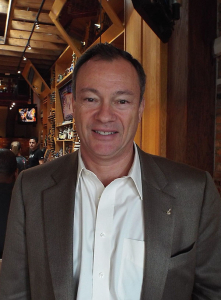 Before her trip, Dr. Harkonen interviewed U.S. Astronaut Michael E. Lopez-Alegria, who holds a record for the second longest cumulative stretch of time that U.S. astronauts have spent in space. Michael Lopez-Alegria logged 215 days as commander of the Expedition 14 mission to the International Space Station. He has fond memories of working with Russian cosmonauts shoulder-to-shoulder in close quarters. "In space, your very survival depends on having good relationships among the crew members," Lopez-Alegria notes. "There is no room for animosities."
The United States and Russia are dependent on each other for successful space exploration. "The Americans rely on Russia's Soyuz spacecraft to deliver U.S. astronauts to the International Space Station," noted Lopez-Alegria. "They also need Russian engines to power Atlas V rockets, which propel military satellites into space." In August 2015, NASA extended its $490 million contract with the Russian Federal Space Agency for manned space flights.
Binding Rules on Space Debris Mitigation Needed
At the Moscow conference, Dr. Harkonen talked about the need for spacefaring nations to establish binding rules on orbital debris mitigation to prevent the growing problem of space collisions. One such collision occurred in February 2009, when an active U.S. Iridium communication satellite and a defunct Russian satellite unexpectedly collided 500 miles above Siberia. This event caused two objects in space to break up into 2,100 pieces, each larger than 10 centimeters.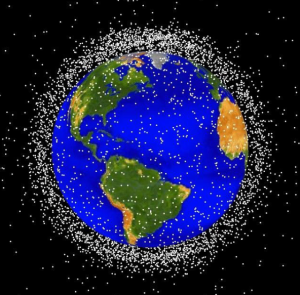 There are approximately 23,000 items over 10-centimeters wide in low Earth orbit (LEO), the area extending from 99 to 1,200 miles above the Earth. The estimated population of particles between 1 and 10 centimeters in diameter is approximately 500,000.
In 2014, various nations launched nearly 300 satellites into space. In the near future, the number will increase substantially. According to the United Nations Office for Outer Space Affairs, at the end of August 2015, there were 4,077 satellites orbiting the Earth, which equates to 56.63% of satellites ever launched.
Orbital debris endangers all satellites, irrespective of their purpose or origin. No spacefaring nation is exempt from the vulnerability that the presence of orbital debris presents to their astronauts and space assets.
This is not the first time CSD has been involved in exploring important issues relating to the human use of outer space. In 2014, The Patuxent Partnership and the Center organized the annual Patuxent Policy Group (PPG) roundtable to discuss issues relating to national security in space and the implications of space militarization on the U.S. Naval Services. The group included panelists and participants from across government, academia, and industry, with a broad range of perspectives and experience. The PPG published the white paper, titled National Security in Space: The Ultimate "High Ground" Deterrent or Provocation? What are the implications for the United States Naval Services?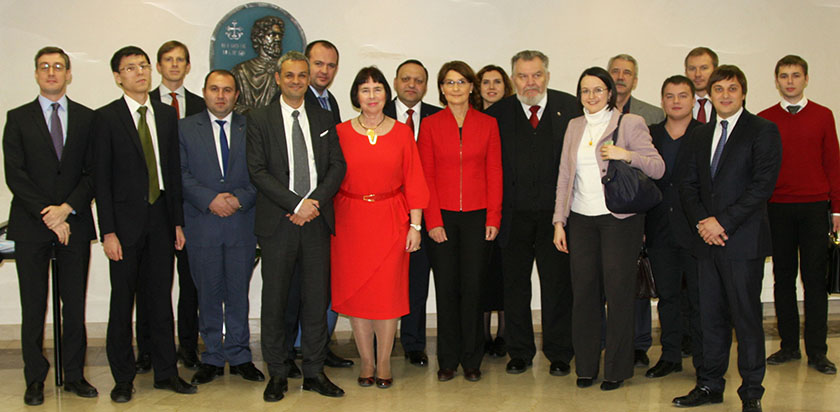 Above: speakers at the 10th Anniversary International Conference "Problems of Global Governance: Economy, Politics Security" at Moscow State Institute of International Relations on November 25, 2016.
Below: Dr. Maija Harkonen and Professor Tatiana Shakleina, Head, Department of Applied Research of International Problems, MGIMO University and her colleague.