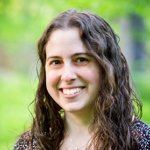 Congratulations to Dr. Gili Freedman!
Assistant Professor of Psychology Gili Freedman and colleague Dr. Jennifer Beer (University of Texas at Austin) recently received a collaborative, three-year grant from the National Science Foundation for a total of $465,222 ($75,102 of which will go to SMCM). In the project titled "Collaborative Research: Lessening the Blow of Social Rejection," Freedman and Beer will be investigating the language of social rejection and how power and concern for one's reputation shape the way that individuals reject others. A central aim of the project is to develop empirically supported training that teaches individuals how to be less hurtful when they engage in social rejection. Starting this fall, Freedman will be working with SMCM collaborative research students on the first stages of the grant.
Read the award abstract on NSF's website.