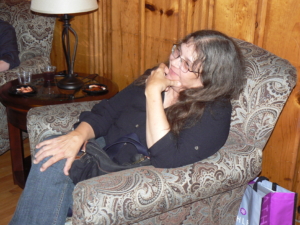 It is with deep sadness that we report the passing of our longtime colleague Dr. Janet Kosarych-Coy, retired assistant professor of psychology, died October 13, 2016.
Janet joined the faculty of St. Mary's College of Maryland in 1988 as part of the Division of Human Development. She taught courses in psychology, counseling, lifespan development, learning disabilities, and social systems. She retired from her teaching career as a member of the Psychology Department in May 2013 and was diagnosed with ovarian cancer in August that year. Janet kept in regular contact with us about her treatment and progress. No matter how she was feeling, when she went in remission and then went back out of remission and had to deal with a whole host of unpleasant complications, she always remained humorous and always appreciated and generously supported the department's Psyched for Life team (for the SMCM American Cancer Society Relay for Life) efforts.
Her late husband, Michael Coy, was an anthropologist and a professor in the Sociology/Anthropology Department at St. Mary's College beginning in 1987. He died of cancer in 1991. Their twins, Helen and Mary, both graduated from St. Mary's College in 2011.
The Coys lived in Nanjemoy, Maryland, in a house that is a his-toric landmark from the Civil War. Janet often said it was her favorite place in the world. She was an active community volunteer in Nanjemoy.
Janet's friends and colleagues in psychology will miss her warmth, humor and generous heart. She was well-loved by her students as evidenced by the heartfelt outpouring of sentiments about Janet on our Facebook Page for Alumni and messages sent to current faculty members.