In choosing themes for our psychology lecture series, we look for topics that have broad interest and that generate scientific research from a variety of perspectives. All invited speakers meet and network with St. Mary's psychology students. Lectures may be used to fulfill the Lecture Reflection Requirement in PSYC 303, PSYC 490, and PSYC 493/494. All lectures are free and open to the general public.
2018-19 Series:
Psychology of Work and Play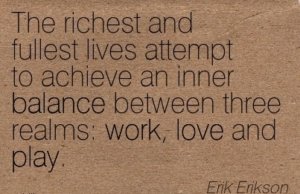 Psychologists have long been interested in work and play.  Early psychological theories, such as Freud's view of adult personality, suggests that work (along with love) are primary motivating forces in human life.  Play is also considered an essential part of childhood and learning. Over the last 70 years, the field of vocational psychology has studied many elements of work and career development, from the role of interests and skills to work-life balance.
The AY18-19 Psychology speaker series will explore various elements of the "Psychology of Work and Play" by inviting four academic psychologists whose professional research and expertise is situated in the examination of various elements of career psychology – work and play.  In particular, given the important of "last mile skills" being focused on at SMCM, we would align our speaker series to reflect the current empirical research on skills and the broader impact of career development on work, play, and health. We would encourage our speakers to discuss their expertise in ways that highlight how psychological knowledge informs our understanding of the role of work and play in human health and well-being.
Series Lectures
Wednesday, October 3, 2018
4:45 pm in Goodpaster Hall 195
Dr. Lisa Flores presents "Latina/o Students' Persistence, Intentions, and Academic Satisfaction in Engineering"
Engineering jobs are critical to the United States' competitiveness in the global market and represent careers that are projected to grow. Latina/os are sorely underrepresented across the engineering pipeline (National Science Foundation, 2013). This presentation highlights findings from two NSF supported projects that examine the longitudinal effects of social cognitive, personality, and contextual factors on engineering students' satisfaction and persistence in engineering as posited by Social Cognitive Career Theory (Lent, Brown, & Hackett, 1994; 2000). The findings are used to provide recommendations for broadening the participation of Latino/as in engineering.
Lisa Y. Flores (PhD, University of Missouri-Columbia) is a Professor and Program Director of the Counseling Psychology program at the University of Missouri-Columbia). She has expertise in the career development of women and Latino/as and the integration of Latino/a immigrants in rural communities. She has published over 65 journal publications, 18 book chapters, and 1 co-edited book and presented over 200 conference presentations in these areas. She has been PI and co-PI on grants funded by NSF and USDA to support her research.Her current grant supported research is a 5-year longitudinal study of cultural and social cognitive influences in the persistence intentions, academic engagement, and academic satisfaction of women and Latino/as in engineering. She is Editor of the Journal of Career Development and past Associate Editor of the Journal of Counseling Psychology, and has served on the Editorial Boards of the Journal of Vocational Behavior, The Counseling Psychologist, Journal of Counseling Psychology, and Career Development Quarterly.
Monday, November 12, 2018
4:45 pm in Goodpaster Hall 195
Dr. Thalia Goldstein presents "The Role of Drama and Imagination in Building Children's Social and Emotional Skills"
Pretend and imaginative play, drama and theatre, have long been theorized as linked to social and emotional skills. Children and adults engage with such activities daily- through their own activities, or by watching actors on television and in film. Yet despite their prevalence, psychologists know very little about the effects of engaging with fictional worlds. I hypothesize that fictional engagement can be used as a lens to answer fundamental questions in the development, improvement, and intervention of social and emotional skills. This talk will present a series of studies, with children aged 3-18, from typical, at risk, and atypical backgrounds, investigating how and when dramatic, acting, and pretense experiences can be harnessed to foster increases in abilities such as emotional control, theory of mind, and empathy.
Dr. Thalia R. Goldstein (PhD Boston College) is Assistant Professor of Applied Developmental Psychology. Her work focuses on children's developing social and emotional skills, particularly theory of mind, empathy, and emotional control and regulation, and how such skills intersect with children's engagement in pretend play, theatre, drama, and other imaginative activities. She directs the SSIT lab (The Social Skills, Imagination, and Theatre Lab), which conducts research that looks both at the effects of engaging in pretend play and theatre on children's social-emotional skills, and how children understanding social information in fictional worlds.
Monday, February 25, 2019
4:45 pm in Goodpaster Hall 195
Dr. William Liu presents on topic TBA
William Ming Liu, PhD., received his masters degree in College Student Development and his doctorate in Counseling Psychology from the University of Maryland. Previously, he was professor and program coordinator at the University of Iowa (2000-2018).  His research interests are in social class and classism, men and masculinity, and White supremacy and privilege. He has been identified as one of the most frequent producers of research in the Psychology of Men and Masculinity and most cited in multicultural competency research. He received the Emerging Leader award from the Committee on Socioeconomic Status (APA), Emerging Young Professional Award (Division 45, APA), and the Researcher of the Year Award (Division 51, APA).   Additionally, he recently received the Faculty Excellence Award for the Board of Regents in Iowa.  He is an editor of the Handbook of Multicultural Competencies in Counseling and Psychology (Sage, 2003), an editor of Culturally Responsive Counseling with Asian American Men (2010, Routledge), the author of Social Class and Classism in the Helping Professions: Research, Theory, and Practice (2011, Sage), the editor of the Handbook of Social Class in Counseling (2013, Oxford University Press), and author of the forthcoming book The Psychology of Privilege, White Supremacy, and Power  (Oxford University Press).  He serves as the Editor for the APA journal, Psychology of Men and Masculinity. He is a fellow of Division 17 and 51.
Other SP19 Lectures TBA
Previous lecture series topics:
2017-18: Psychology of Oppression
2016-17: Psychology Across the Globe: Cross-Cultural Perspectives
2015-16: Autism Spectrum Disorder: Fact and fiction
2013-14: Health and the Obesity "Crisis"
2012-13: Diagnosis, Treatment, and Prevention
2011-12: Populations in Need