Contact the academic program coordinator to check room availability/make a reservation for the facilities below (with exception to the Behavioral Neuroscience Lab).
Computer Labs
Human Observation Suite
Group Observation/Testing
Student Research Rooms
Behavioral Neuroscience Lab
Printing Lab
Seminar/Meeting Room
Lounge
Computer Labs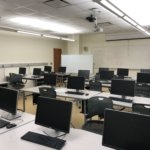 The computer labs in Goodpaster Hall (70, 72, & 81) are a just a few of a number of instructional technology facilities on campus where learners and faculty can interact. You must have a Onecard to access the Goodpaster Hall computer labs. The psychology department regularly uses labs to teach statistics and research methods as well as lab sections for advanced social, cognitive, counseling, and developmental psychology. Students can use these labs if/ when classes are not regularly scheduled to meet in the space and they can be reserved for special activities such as research studies.
The Human Observation Suite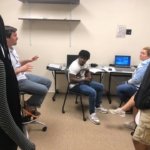 The Human Observation Suite is designed for demonstration and research purposes. The suite includes five interaction rooms (one large, one medium, and three small), each equipped with networked video and audio taping and replay capacity. Two control rooms allow for conducting audio/video recordings and observation of interaction rooms via two-way mirrors. The suite may be reserved as a whole (all five interaction rooms, both control rooms, and the waiting area) or may be reserved in smaller arrangements.
Group Observation/Testing Rooms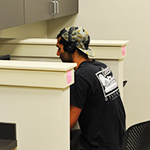 The computer testing lab (GH20) has nine stations separated by carrels which better allows researchers to minimize peripheral distractions when conducting a study. The large observation room (GH22) will accommodate approximately 15 people. There is media projection equipment currently in the room with easy access for hooking up a laptop. It is perfect for small seminars, meetings, and group testing. Students can use GH22 as a study space if/ when it is not previously scheduled.
Student Research Rooms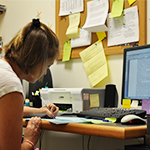 The student research rooms (GH63 and GH67) are designed for SMP study. They each have a computer and will accommodate up to five people. Reservations can be made for a single day/time or on a recurring basis over the semester. First priority for reserving these rooms will be given to PsycSMP students and mentors. Second priority will be given to departmental needs, and third priority to general needs.
GH67 doubles as the office of the SMCM chapter of Psi Chi. Psi Chi receives first priority for GH67.
Room 125 is a shared space used by an adjunct and the Stats TA for office hours but can be used by SMP students to record phone interviews via software and equipment that is installed on a dedicated laptop connected to the office phone.
Behavioral Neuroscience Lab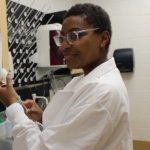 This large laboratory includes eight independent testing rooms available for a variety of behavioral observations and experiments. This modern facility is shared research/teaching space with access to behavioral monitoring equipment and mazes, including:
a radial arm maze
Morris water maze
operant chambers
drug self-administration chambers
locomotor activity chambers
Barnes maze
Rotarod
fear conditioning chambers
startle chambers
condition place preference chambers
elevated plus maze
open field
  It also has a wet lab, and facilities for histology, including a freezing microtome and fume hood.
Printing Lab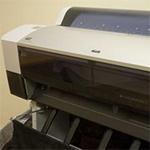 This lab houses a large-format printer psychology faculty and students can use to produce research posters for on-campus symposiums and professional conferences.
Large Format Poster Guidelines
Seminar/Meeting Room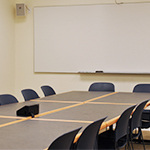 This room (GH103) will accommodate approximately 10 people (COVID-19 capacity: four). There is media projection equipment currently in the room with easy access for hooking up a laptop. The room is perfect for small seminars, meetings, and small group testing. Students can use GH103 as a study space if/ when it is not previously scheduled.
Lounge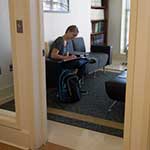 This space on the first floor of Goodpaster Hall (between rooms 127 & 128) is a nice place to study or wait for meetings. It has a great view of the pond next to Campus Drive.