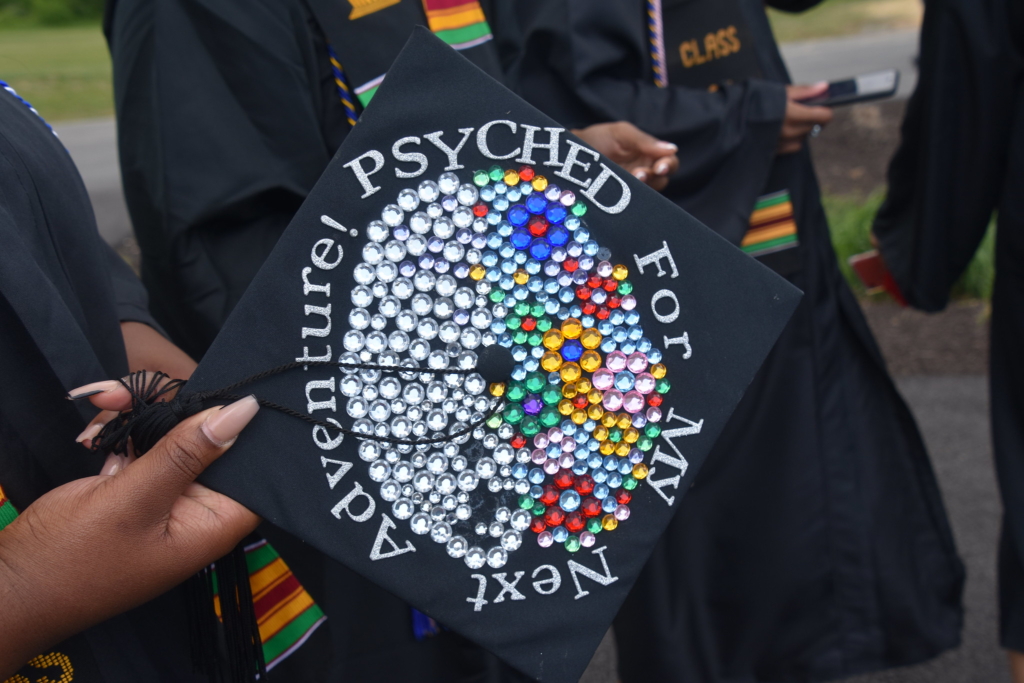 What can I do with this major?
A degree in psychology prepares you for a myriad of careers.
Career Options for Psychology Majors:
Business and Industry
Education
Human Resources
Human Services
Research
Highlighted Careers
Advocacy
Applied Behavior Analysis
Art Therapy
Case Management
Counseling
Environmental Psychology
Human Factors / Engineering Psychology
Marketing & Communications
Mental Health Services
Medicine
Psychotherapy
Rehabilitation Services
Research
Social Work
Sport Psychology
Teaching
Testing/Test Development
View our alumni updates/careers database to see what career paths our majors have followed! 
"The career opportunities for students with a psychology degree are endless, which means there's a lot to learn about what opportunities you have. Start researching and talking to people now. There are so many jobs out there that a psychology degree will help qualify you for. Set up informational interviews or find a company or job you think look interesting. Look at the staff page and then find those people on LinkedIn to learn about their career history. This will give you great insight into what they did to get to the point they are now. Reach out to them and ask to set up a phone call to learn more. People are always happy to help!" Sara Morgan Watters '10, communications & leadership development consultant for Evans Consulting
---
Career Planning Resources
Psyc Alumni Career Database: Explore the career paths psychology alumni have followed and learn who employs them
Psychology Careers and Salaries (mastersinpsychology.com)
Dr. Mohini Tellakat's 10/29/2020 Career Preparation Workshop Materials (video and Google slides) – must have an @smcm email to access
An Online Career-Exploration Resource for Psychology Majors– more than 2,400 hotlinks psychology majors can use to explore 300 careers they can prepare to enter that have been organized into 15 broad occupational categories to facilitate searching. Persons employed in 57 of these careers are psychologists who must hold the appropriate graduate degree. The remaining 243 psychology-related careers (i.e., those that require the demonstration of psychological knowledge and skills, but which do not carry the title of psychologist) are divided almost equally into two categories: those that can be entered with a bachelor's degree and those that require a graduate degree.
St. Mary's College of Maryland Center for Career and Professional Development

Handshake is the CCPD's internal job and internship database, designed to enable students and alumni to easily connect with local, regional, and national employers. Check it out!

Científico Latino (mentorship, workshops, open-access resources on scholarships, fellowships and blog posts on professional development)
CounselingDegreeGuide.Org (programs, career outlooks, state-by-state guides to licensure, expert advice, job boards)
Beginner's Guide to College Success Blog Post: Preparing for Medical School–What Should Be Your Major?
Careers in Psychology | Psychology Degree Guide (salary numbers, career descriptions, interviews with successful psychologists, industry links, and more)
O*NET Online (tool for career exploration and job analysis sponsored by the U.S. Department of Labor, Employment & Training Administration)
LearnPsychology.org (just a really great and thorough resource; gives lots of info about psyc careers, interviews with experts, degree programs and salaries)
---
Suggested Courses
Requirements: (*) Master's degree (**) Ph.D. or Psy.D.
Career: College Teaching and Research
Potential jobs: Lab Director, Research Assistant, Professor**
Suggested Courses & Experience: Lab Courses, Teaching Assistant, Research Assistant, Internship, other research projects
Career:
Elementary/Secondary Student Services
Potential jobs:
Guidance Counselor, School Social Worker, Substance Abuse Trainer, School Psychologist
Suggested Courses & Experience:
Social Psychology, Exceptionality, Educational Psychology, Infant & Child Development, Lifespan Development, some
Advanced Topics in Development and Learning
, Cognitive Psychology,
Topics in Learning Theory, Psychology of Learning plus Laboratory or
Laboratory Seminar in Learning Theory, internship in a school setting
Career:
Elementary/Secondary Teaching
Potential jobs:
Teacher
Suggested Courses & Experience:
Educational Psychology, Exceptionality, and a course with a developmental focus. Infant and Child Development is recommended for students who wish to pursue elementary certification; Lifespan Development is recommended for students who wish to pursue secondary certification or K-12 certification in Art, Music, or theater.
Other courses good for education:
Topics in Learning Theory, Psychology of Learning plus Laboratory or
Laboratory Seminar in Learning Theory, Developmental Psychology plus Laboratory or
Laboratory Seminar in Development
, some
Advanced Topics in Development and Learning
Career:
Mental Health Services
Potential jobs:
Mental Health Worker, Counselor**, Therapist*, Clinical Psychologist**, Counseling Psychologist**
Suggested Courses & Experience:
Counseling Theories and Methods, Psychopathology, Cognitive Psychology plus Laboratory, Laboratory Seminar in Biological and Sensory Psychology, Drugs, Brains, and Behavior, Counseling Psychology plus Laboratory or some sections of
Laboratory Seminar in Health and Counseling
, some Advanced Topics in Health and Counseling
Career:
Community Services/Social Services
Potential jobs:
Activity Director, Child Care Worker, Foster Care Worker, Volunteer Coordinator, Social Worker, Case Worker
Suggested Courses & Experience:
Social Psychology, Sociology of the Family, Developmental Psychology Courses, Psychology of Gender, Counseling Theories and Methods, Social Psychology plus Laboratory or
Laboratory Seminar in Social Psychology
, some
Advanced Topics in Social and Cognitive Processes,
internship in human services, volunteer service
Career:
Business/Industry
Potential jobs:
Personnel Manager, Productivity Consultant, Sales Representative, Market Researcher, Customer Relations Rep., Risk Analyst*, Quality Control Analyst, Haman Factors Specialist*
Suggested Courses & Experience:
Social Psychology, Cognitive Psychology, Developmental Psychology plus Laboratory or
Laboratory Seminar in Development
, Social Psychology plus Laboratory or
Laboratory Seminar in Social Psychology, some sections of
Laboratory Seminar in Biological and Sensory Processes, some
Advanced Topics in Development and Learning,
Business/Economics Courses, leadership in organizations, internship in human resources
Career: Health/Medical Services
Potential jobs: Medical Technician, Nurse, Physical Therapist*, Psychiatric Aide, Child Life Specialist, Occupational Therapist*, Health Psychologist**
Suggested Courses & Experience: Social Psychology, Cognitive Psychology, Developmental Psychology plus Laboratory or Laboratory Seminar in Development, Social Psychology plus Laboratory or Laboratory Seminar in Social Psychology, Business/Economics Courses, leadership in organizations, internship in human resources
Career:
Law/Criminal Justice
Potential jobs:
Corrections Officer, Probation Officer, Investigative Officer, Lab Technician, Case Worker, Juvenile Counselor, Forensic Psychologist**
Suggested Courses & Experience:
some
Topics in Health & Counseling,
some
Advanced Topics in Health and Counseling
, some
Advanced Topics in Development and Learning
, Drugs, Brains, and Behavior, Cognitive Psychology plus Laboratory or
Laboratory Seminar in Cognitive Psychology
,
Counseling Psychology plus Laboratory or some sections of Laboratory Seminar in Health and Counseling,
Sociology of Law, Crime and Deviance, internship in corrections; may benefit to double major psychology and sociology
Professional Resources & Organizations