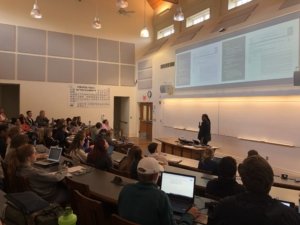 In choosing themes for our psychology lecture series, we look for topics that have broad interest and that generate scientific research from a variety of perspectives. All invited speakers meet and network with St. Mary's psychology students. Lectures may be used to fulfill the Lecture Reflection Requirement in PSYC 204/206, PSYC303, PSYC 490, and PSYC 493/494. All lectures are free and open to the general public. We are grateful to our 2020-21 Lecture Series co-sponsor: the Lecture & Fine Arts Committee.
2020-2021 Series:  Intervention Science: Harnessing Psychology to Address Oppressive Systems
A wide range of societal problems currently loom large across the country, and psychological science is uniquely situated to provide potential solutions to these problems through intervention research. The science of interventions encompasses seemingly simple interventions that change the way students think about themselves right before an exam to larger, complex interventions that attempt to broker peace between opposing factions in a war-torn country. Across the subfields of psychology, basic research principles are being used in transformational research to benefit society across multiple levels of analysis, from individuals to groups to communities at large.  
The AY20-21 Psychology Lecture Series will explore various elements of "Intervention Science" by inviting four scientists specializing in intervention research who apply psychological research to solve real world problems of systemic and interpersonal racism. Our speakers will address the ways in which psychology can connect with other disciplines to foster social change. It is our goal to invite psychologists who create and study interventions from diverse subfields of psychology including social psychology (e.g., interventions that seek to reduce racial disparities) and clinical/counseling psychology (e.g., interventions for preventing depression in low-income families). In developing our speaker list, we will prioritize individuals who create interventions that address problems faced by those in underrepresented and/or marginalized communities (e.g., low SES individuals, racial and sexual minorities). 
Virtual Lectures
Wednesday, September 30; 4:45 pm; virtual access details
Dr. Dorainne Green (Indiana University at Bloomington) will speak on "Managing Emotions in the Face of Discrimination: Implications for Individual and Group Outcomes."
"Contending with discrimination can yield a cascade of negative affective, cognitive, behavioral, and physiological outcomes, but the emotions it engenders can also motivate collective action. Recent research on emotion regulation suggests that reflecting on negative experiences from a distanced, rather than immersed, perspective results in less negative affective outcomes, including diminished anger. In this talk, I will present research examining how emotion regulation strategies shape multiple consequences of exposure to group-based discrimination for members of different stigmatized groups (i.e., racial minorities, women). Specifically, I consider the implications of distanced compared with immersed processing of discriminatory events for individuals' affective and cognitive experiences, physiological outcomes, and collective-action tendencies. Implications for potential interventions designed to mitigate the negative outcomes of contending with discrimination while preserving motivation for collective action will be discussed."
Starting at 4:15 pm, Dr. Green will be available for an informal virtual chat with students/faculty/staff before the lecture presentation.
Friday, October 2; 2:45 pm; virtual access details
Dr. Valerie Jones Taylor (Lehigh University) will speak on "Virtual Interracial Contact: leveraging the possibilities of VR to improve interracial interactions."
"Much research has documented that interracial encounters among strangers can be awkward and uncomfortable, increase anxiety, disrupt cognitive functioning, and derail interactions. However, given that the U.S. landscape is simultaneously increasing in racial diversity and hostility, investigating ways to motivate positive and open engagement in interracial interactions is imperative. In this talk, I theorize about how we might leverage the potential of virtual reality (VR) to mitigate the challenges that arise in interracial encounters. Extending previous research and providing evidence of VR's efficacy in interracial interactions, I provide preliminary evidence that, similar to in-person interracial interactions, VR interracial interactions increase adverse interpersonal outcomes. This preliminary evidence begins to lay the groundwork for testing the repeated VR interracial contact hypothesis. Broadly defined, this hypothesis asserts that repeated VR interracial contact can provide people with opportunities to "practice" engaging in interracial interactions, which can, over time, minimize people's vigilance and anxiety, and help them build "interracial competence muscles." Ultimately, this research program aims to create a theory-driven tool for practitioners across fields (e.g., education, healthcare, business) to enhance cultural competence and achieve the long-lasting benefits of positive interracial contact."
Dr. Taylor will be available for a 30-minute informal virtual chat with students/faculty/staff after the lecture presentation.
Friday, October 23, 2020; 2:45 pm, virtual access details
Dr. Riana Eyse Anderson (University of Michigan) will speak on Healing racial trauma: Focusing on racial socialization as a CBT strategy for Black youth.
"For Black youth and adults, prolonged exposure to racial discrimination has resulted in debilitating psychological, behavioral, and health outcomes. To help their children prepare for and prevent the deleterious consequences of discrimination, many Black parents utilize racial socialization, or communication about racialized experiences. And, while racial socialization strategies correspond with several CBT strategies widely used by clinicians, there is a critical gap between what Black families do to mitigate discriminatory distress and what clinicians and providers offer Black youth. As such, training clinicians to more effectively utilize racial socialization processes and develop such skills to help Black youth and parents heal from the effects of past, current, and future racial trauma is important. Greater racial socialization competency is proposed as achievable through intentional and mindful practice, thus, this symposium will explore theories and practices important in the healing processes of racial trauma for Black families, clinicians, and researchers alike, especially in times of exceptional stress (e.g., COVID-19)."
Dr. Anderson will be available for a 30-minute informal virtual chat with students/faculty/staff after the lecture presentation.
Wednesday, April 14; 4:45 pm, Register for the event at:
https://smcm.zoom.us/meeting/register/tJEucuqhrzIvGNIKO92HkoC9eGgEI51yv3eG
Maneeza Dawood, M.A., M. Phil.  (Columbia University) will speak on Demystifying Muslim Adolescents: A social network framework of civic identity development.
Building on work within social, cultural and Islamic psychology, I develop and empirically test a social network framework of civic identity development among Muslim adolescents who experience threats to their religious identity. In this talk I will highlight four research studies designed to explore the social networks of Muslim high school students in the classroom in four European countries, explore Muslim adolescents' social relationships in the context of an identity-based after-school program, and examine the implicit colonial beliefs that color existing social psychological literature on Muslim populations. Implications for social and cultural psychology, network science, and intervention science are discussed.
Maneeza Dawood, M.A., M.Phil., is a fifth-year doctoral student at the Department of Psychology at Columbia University, working with Dr. Valerie Purdie-Greenaway. She earned her undergraduate degree in Psychology from Columbia University. Prior to beginning her doctorate, she worked as a research coordinator in the Division of Behavioral Medicine at the Columbia University Medical Center. She has advised and trained many students in the lab as a mentor and led numerous volunteers and organizers at an annual scholastic tournament as a founder.
Maneeza will be available for an informal chat with students/faculty/staff after the lecture presentation.
Previous lecture series topics:
2019-20: Psychology of the Opioid Crisis
2018-19: Psychology of Work and Play
2017-18: Psychology of Oppression
2016-17: Psychology Across the Globe: Cross-Cultural Perspectives
2015-16: Autism Spectrum Disorder: Fact and fiction
2013-14: Health and the Obesity "Crisis"
2012-13: Diagnosis, Treatment, and Prevention
2011-12: Populations in Need