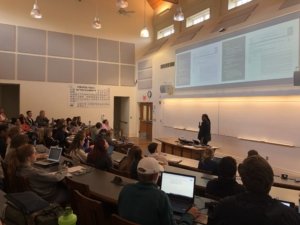 In choosing themes for our psychology lecture series, we look for topics that have broad interest and that generate scientific research from a variety of perspectives. All invited speakers meet and network with St. Mary's psychology students. Lectures may be used to fulfill the Lecture Reflection Requirement in PSYC 204/206, PSYC303, PSYC 490, and PSYC 493/494. All lectures are free and open to the general public. We are grateful to our 2020-21 Lecture Series co-sponsor: the Lecture & Fine Arts Committee.
2020-2021 Series:  Intervention Science: Harnessing Psychology to Address Oppressive Systems
A wide range of societal problems currently loom large across the country, and psychological science is uniquely situated to provide potential solutions to these problems through intervention research. The science of interventions encompasses seemingly simple interventions that change the way students think about themselves right before an exam to larger, complex interventions that attempt to broker peace between opposing factions in a war-torn country. Across the subfields of psychology, basic research principles are being used in transformational research to benefit society across multiple levels of analysis, from individuals to groups to communities at large.  
The AY20-21 Psychology Lecture Series will explore various elements of "Intervention Science" by inviting four scientists specializing in intervention research who apply psychological research to solve real world problems of systemic and interpersonal racism. Our speakers will address the ways in which psychology can connect with other disciplines to foster social change. It is our goal to invite psychologists who create and study interventions from diverse subfields of psychology including social psychology (e.g., interventions that seek to reduce racial disparities) and clinical/counseling psychology (e.g., interventions for preventing depression in low-income families). In developing our speaker list, we will prioritize individuals who create interventions that address problems faced by those in underrepresented and/or marginalized communities (e.g., low SES individuals, racial and sexual minorities). 
Virtual Lectures
TBA
Previous lecture series topics:
2019-2020: Psychology of the Opioid Crisis
2018-19: Psychology of Work and Play
2017-18: Psychology of Oppression
2016-17: Psychology Across the Globe: Cross-Cultural Perspectives
2015-16: Autism Spectrum Disorder: Fact and fiction
2013-14: Health and the Obesity "Crisis"
2012-13: Diagnosis, Treatment, and Prevention
2011-12: Populations in Need