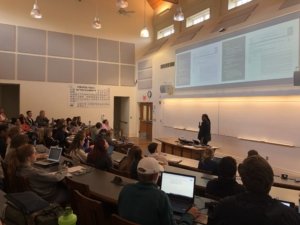 In choosing themes for our psychology lecture series, we look for topics that have broad interest and that generate scientific research from a variety of perspectives. All invited speakers meet and network with St. Mary's psychology students. Lectures may be used to fulfill the Lecture Reflection Requirement in PSYC 204/206, PSYC303, PSYC 490, and PSYC 493/494. All lectures are free and open to the general public. We are grateful to our 2019-20 Lecture Series co-sponsors: Lecture & Fine Arts Committee, Departments of Educational Studies and Philosophy & Religious Studies
2019-2020 Series: Psychology of the Opioid Crisis
During the 1990s, pharmaceutical companies, such as Perdue Pharma, along with the medical community, established a pattern of widespread prescription of opioid pain relievers. These drugs (e.g., Oxycontin, Vicodin) were touted as safe and non- addicting treatment options for a series of diseases and chronic disorders. As prescription rates for opioids increased, there was a concomitant increase in opioid abuse rates as well. Research established that these "miracle" pain relieving drugs are addictive, and can also lead to abuse of other illegal drugs, such as heroin. Unfortunately, this shift in understanding occurred too late, and opioid overdose rates began to increase (opioid overdoses lead to respiratory depression and possible death). In 2017, roughly 47,600 Americans died from opioid related overdoses, including prescription opioids, heroin, and fentanyl (CDC- National Center for Health Statistics). Currently, about 2 million Americans suffer from an opioid use disorder (Substance Abuse and Mental Health Services Administration). 
The AY19-20 Psychology speaker series will explore various elements of the "Psychology of the Opioid Crisis" by inviting four academic psychologists whose professional research and expertise is situated in the examination of various elements of opioid use disorders.  By examining a biopsychosocial model of drug abuse, our speakers would examine the physiological, social and mental factors that contribute and maintain maladaptive opioid use. It is our goal to invite psychologists from diverse fields, such as cognitive psychology to discuss long term issues surrounding opioid abuse and memory function, and social psychology to examine how social processes such as discrimination affect opioid use. We are also preparing a list of speakers that include developmental psychologists who examine consequences of opioid abuse on our aging population, behavioral neuroscientists to discuss the neural mechanisms of opioid reward, and clinical/counseling psychologists to discuss issues related to opioid treatment and interventions. In developing our speaker list, we would prioritize individuals who examine the current opioid crisis in underrepresented and/or marginalized communities (e.g., prison populations, rural communities facing lack of access to treatment/support, uninsured and low SES individuals, racial and sexual minorities). We would encourage our speakers to discuss their expertise in ways that highlight how psychological processes affect the relationship between opioid use and abuse. 
Series Lectures
Wednesday, October 16, 2019; 4:45 pm in Goodpaster Hall 195
Dr. Brenda Curtis (National Institute on Drug Abuse) will speak on "Machine Learning, Digital Phenotyping & Innovative Addiction Intervention"
Dr. Curtis conducts translational research that leverages social media and big data methodologies to form the development, evaluation, and implementation of technology-based tools that address substance us and related conditions such as HIV/AIDS. Her research projects include creating a real-time relapse prevention smartphone application, developing social media-language algorithms to identify relapse risks, and utilizing social media surveillance to assess excessive alcohol consumption to predict opioid use, overdoes rates, and treatment need from social media language that is geo-mapped.
Dr. Curtis will discuss recent research findings on the use of machine learning and digital phenotyping on predicting risks of relapse and treatment outcomes. Using both a theory and data driven approach, she will discuss the insights gained from such approaches. In addition, Dr. Curtis will discuss three key areas of her research: (1) using unobtrusive data collection techniques that predict relapse; (2) determining the value of using online language and data generated from passive digital sources to predict relapse compared to that of traditional predictor scales/models; and (3) formally testing the generality of passive digital data as a relapse predictor across multiple substances.
Dr. Curtis earned both a bachelor's degree in biology and a master's degree in public health from the University of Illinois and subsequently obtained her doctorate in communication from the University of Pennsylvania, where she most recently held the appointment of Assistant Professor of Psychology in Psychiatry, Addictions at the Perelman School of Medicine.
Friday, November 22, 2019; 3:00 pm in Goodpaster Hall 195
Dr. Michelle Stock (George Washington University) will speak on "Explaining and Reducing the Association between Racial Discrimination and Substance Use"
She is an associate professor in the Department of Psychological and Brain Sciences at the George Washington University teaching classes in social psychology, health psychology, health interventions, and social influence. Dr. Stock focuses her research on applying social-psychological theories to the study of risky health cognitions and behaviors, including substance use, sexual behaviors, and UV exposure. Her experimental and survey research focuses on the application of dual-processing models, in particular the Prototype-Willingness model (Gibbons, Gerrard, & Lane, 2003), to provide a framework for understanding the cognitive (both heuristic and reasoned) constructs and situational factors that affect health decisions. The research conducted in her lab can be split into three main areas: the relation among risk behavior, social comparison, and perceptions of risk; applying social psychological theory and the Prototype-Willingness model to health interventions; and examining the relation between racial discrimination and risky health cognitions and behaviors as well as risk and protective factors that may help explain and that may reduce this relation.
Dr. Stock earned her doctorate in psychology at Iowa State University.
Friday, February 21, 2020; 2:45 pm in Goodpaster Hall 195
Dr. Kelly Dunn (Johns Hopkins University School of Medicine) will speak on "The Promise of Tramadol as a Medication to Treat Opioid Use Disorder"
Tramadol (Ultram) is a Schedule IV analgesic with low abuse liability and opioid-like effects that position it to be a promising medication for opioid use disorder (OUD). This
talk will first introduce tramadol and the pharmacological features that distinguish it from other opioid medications before describing the results of a recent randomized controlled
trial (RCT) that compared the relative efficacy of tramadol, clonidine, and buprenorphine (Suboxone) as a method of tapering patients off of opioids. The RCT was a double-blind,
double-dummy, 28-day residential treatment trial (N=102) that showed tramadol produced outcomes similar to buprenorphine and superior to clonidine. Finally, the
results of a secondary analysis evaluating how individual differences in response to the study medications predicted outcomes will be discussed. Overall, this presentation will
introduce methods for evaluating OUD treatment options and highlight the value of applying a personalized medication approach to optimize treatment for persons with OUD.
Dr. Dunn's research focuses primarily on the treatment of opioid use disorder using human subjects. She has worked on more than 10 randomized clinical trial evaluations of treatments for patients with opioid use disorder, and has contributed to research regarding medication development for alcohol use disorder and cigarette smoking. She is currently pursing several lines of research regarding methods to enhance opioid treatment outcomes, to improve prevention of opioid overdose, to understand mechanisms underlying the development of opioid use disorder, to reduce concurrent problems among patients with opioid use disorder, and to develop tools for sensitively measuring overdose risk and noninjection drug use behavior with an emphasis on reducing HIV and HCV risk behaviors. Finally, she also has training in the use of incentives (contingency management) to modify behaviors.
Dr. Dunn earned her doctorate at the University of Vermont and completed a postdoctoral fellowship in behavioral pharmacology at Johns Hopkins University School of Medicine.
Friday, March 6, 2020; 3:00 pm in Goodpaster Hall 195
Dr. CJ Seitz-Brown (University of Maryland, College Park) will speak on "Meeting people where they're at: Harm reduction and peer-led interventions for opioid use disorder in Maryland and Washington, D.C."
Dr. Seitz-Brown will discuss the concept of harm reduction and its application to interventions for problems associated with opioid use. The lecture will include examples from his volunteer work with a syringe exchange program in Washington, D.C., as well as a focus on the impact of stigmatizing language surrounding substance use. Similarly, he will highlight the increasing role that peers with lived experience play in responding to substance use concerns by sharing ongoing research on peer-led treatment approaches.
CJ Seitz-Brown is an assistant clinical professor in the Department of Psychology at the University of Maryland, College Park. Prior to joining the faculty at UMD, he served as a postdoctoral psychology fellow at the Veterans Affairs Puget Sound Health Care System in Seattle. His role there included providing individual and group therapy as part of an opioid treatment program that offered medications such as methadone, buprenorphine, naltrexone, and injectable extended-release buprenorphine.
His research, part of the The Global Mental Health and Addiction Program at the University of Maryland (GMAP), focuses on developing and evaluating interventions to address substance use, mental health concerns, and co-occurring chronic health problems in the United States as well as internationally. CJ supervises graduate students' clinical work in the UMD Psychology Clinic and teaches undergraduate and graduate courses.
Dr. Seitz-Brown earned his doctorate and a master's in clinical psychology at the University of Maryland, College Park. He earned a BA in psychology and linguistics at Swarthmore College.
Monday, April 20, 2020; 4:45-6:15 in Cole Cinema – Combating the Opioid Crisis in Our Local Community
Moderated by Tammy Loewe, Behavioral Director of the St. Mary's County Health Department, this panel discussion with be the final event in the AY19-20 Psychology Lecture Series: Psychology of the Opioid Crisis. It will feature panelists from local organizations providing addiction treatment in St. Mary's County.
Previous lecture series topics:
2018-19: Psychology of Work and Play
2017-18: Psychology of Oppression
2016-17: Psychology Across the Globe: Cross-Cultural Perspectives
2015-16: Autism Spectrum Disorder: Fact and fiction
2013-14: Health and the Obesity "Crisis"
2012-13: Diagnosis, Treatment, and Prevention
2011-12: Populations in Need