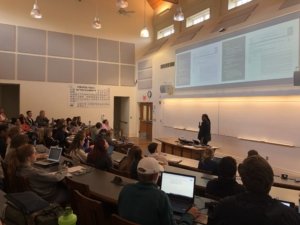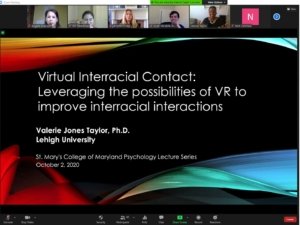 In choosing themes for our psychology lecture series, we look for topics that have broad interest and that generate scientific research from a variety of perspectives. All invited speakers meet and network with St. Mary's College psychology students. Lectures may be used to fulfill the Lecture Reflection Requirement in PSYC 206 and PSYC 493/494. All lectures are free and open to the general public. We are grateful to our 2022-23 Lecture Series sponsor: the Lecture & Fine Arts Committee.
2022-2023 Series: The Psychology of Close Relationships
The AY22-23 Psychology speaker series will explore various elements of the Psychology of Close Relationships by inviting four social scientists who study close relationships from varied disciplinary perspectives such as social psychology (e.g., relationship threat, social rejection, revenge), developmental psychology (e.g., the development of close relationships, social rejection understanding, language development), clinical/counseling psychology (e.g., couples therapy and relationship interventions), health psychology (e.g., the effect of close relationships on health), and/or cognitive psychology (e.g., language and cognitive costs of romantic breakup).
Two of the four speakers will give virtual lectures with registration required. After registering, you will receive a confirmation email containing information about joining the meeting.
Thursday, September 8 @ 11:20 am – 12:10 pm
Goodpaster Hall 195
Dr. David Chester (Virginia Commonwealth University) will speak on "The Sting of Rejection and the Sadistic Sweetness of Revenge: How Social Pain and Pleasure Promote Aggression." David Chester, Ph.D. is a social psychologist who studies the reasons why people hurt each other. He is an associate professor in the Department of Psychology at Virginia Commonwealth University, where he directs the Social Psychology and Neuroscience Laboratory, which studies the neural and psychological mechanisms that cause and constrain human aggression. The rest of his time is claimed by the woods and rivers around Virginia and by his family, which includes a rowdy toddler and a lazy hound dog.
Close relationships entail attraction and sadly, rejection. In this talk, we will first look across psychological and neural evidence to examine how people might combat the pain of rejection with the pleasure of revenge and how this tendency might feed into broader patterns of sadistic aggression. Then, we will look to the future and have a discussion about where science should go next to best understand and reduce aggression in close relationships.
Thursday, November 10 @ 11:20 am – 12:10 pm via Zoom
Register at https://bit.ly/SMCM-DrChoukas-Bradley
Dr. Sophie Choukas-Bradley (University of Pittsburgh) will speak on "Camera-Ready: Social Media and Gender Influences on Adolescents' Interpersonal Relationships and Body Image." Sophia (Sophie) Choukas-Bradley is a licensed clinical psychologist and Assistant Professor of Psychology at the University of Pittsburgh.
Why do body image concerns and mental health symptoms increase at the transition from childhood to adolescence? Why are girls and LGBTQ+ youth at heightened risk? How can we help all adolescents navigate the complexities of interpersonal relationships and identity development in this new era of social media? These are the questions that drive my program of research. In this talk, I will present results from my recent quantitative and qualitative studies, grounded in developmental–sociocultural theories of adolescent development. I will focus primarily on my research on the role of social media use in adolescents' body image and mental health concerns, with an emphasis on how social media may exacerbate gendered cultural appearance pressures. I will also discuss current and future directions, highlighting my recent work on transgender adolescents' body image and mental health disparities, as well as my new line of work on Black young women's gendered racial identity development, body image, and sexuality. 
Monday, February 13 @ 4:30 pm – 5:20 pm
Goodpaster Hall 195
Dr. Brian Doss '97 (University of Miami) will speak on topic TBD.
Dr. Doss' research focuses on ways to use digital technologies to improve couples' romantic relationships – with a special focus on low-income couples, couples in which one person is a veteran or active-duty service member, and couples in which one person is a breast cancer survivor.
Wednesday, April 12 @ 4:30 pm – 5:20 pm via Zoom
Register at https://bit.ly/SMCM-DrBelindaCampos
Dr. Belinda Campos (University of California, Berkeley) will speak on "Insight for Relationships: Focusing on Latino Culture."
Belinda Campos is professor and chair of the Department of Chicano/Latino Studies at the University of California, Irvine and an affiliate of the School of Medicine PRIME-LC Program and the Department of Psychological Sciences at the University of California, Irvine. Dr. Campos received her PhD in social-personality psychology from UC Berkeley. After completing her PhD, Dr. Campos held postdoctoral positions at UCLA in the Department of Psychology and in the Department of Anthropology's Center for the Everyday Lives of Families.
Dr. Campos' research examines the role of culture and positive emotions in shaping close relationship experience and health outcomes, with a particular focus on U.S. Latinos. Her work suggests that cultural ideals that are characteristic of Latino populations – close families and positive emotion expression – influence health and well-being.
Social relationships can confer high subjective well-being, resilience against adverse circumstances, and benefits for health. To reap these rewards, humans must balance self-interest and other-interest. In this talk, Dr. Campos asserts that Latino contexts are of theoretical and applied interest for studying these questions and will present a series of studies that show that Latino cultural values that emphasize other-interest are associated with benefits for relationship quality and have implications for health.
Previous lecture series topics:
2019-20: Psychology of the Opioid Crisis
2018-19: Psychology of Work and Play
2017-18: Psychology of Oppression
2016-17: Psychology Across the Globe: Cross-Cultural Perspectives
2015-16: Autism Spectrum Disorder: Fact and fiction
2013-14: Health and the Obesity "Crisis"
2012-13: Diagnosis, Treatment, and Prevention
2011-12: Populations in Need