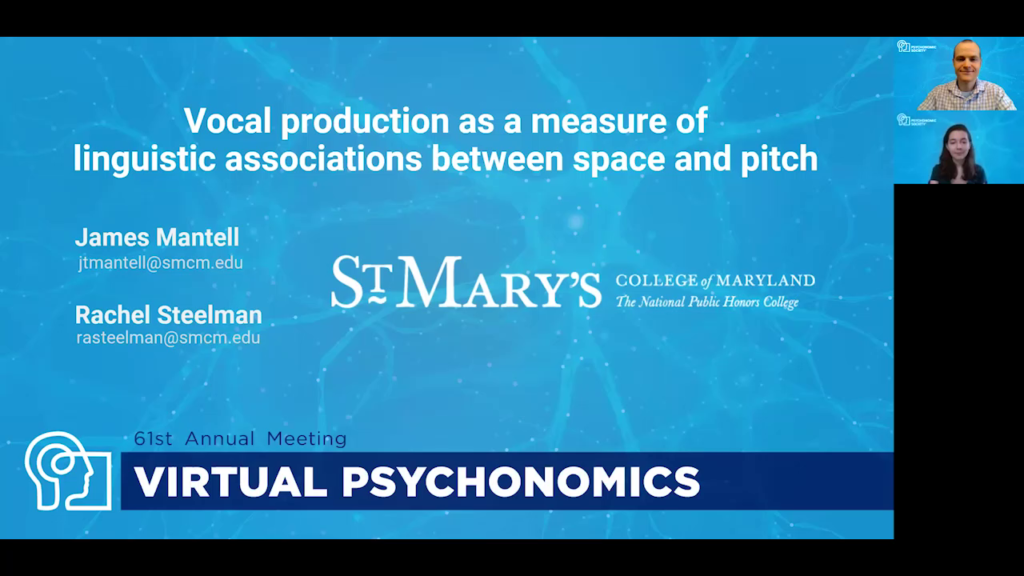 Presenting undergraduate research at a conference off-campus is a great way to build one's resume and professional network. This listing is not meant to be inclusive but it is representative of psychology students' past experiences.
Some students have been supported by competitive travel awards sponsored by the Faculty for Undergraduate Neuroscience, the Council on Undergraduate Research, the College, or the Foundation.
National
Regional
Local Undergraduate Conferences
Held annually in mid April
Recent Conference Presentations
*denotes student author
*Atwell, J. & Bailey, A. (2023, April). Special K: Effects of (R)-ketamine on Animal Models of Depression. Talk presented at the 2023 Mid-Atlantic Undergraduate Psychology Conference at Harford Community College, Bel Air, MD.
*Fitzpatrick, J., *Fraser, A., Ehman, A.C., & Weber, M. (2023, April). Uncertain but not unaffected: Sexual assault uncertainty and post-traumatic-stress symptoms. Poster presented at the 69th Annual Meeting for the Southeastern Psychological Association (SEPA), New Orleans, LA.
*Taylor, S., *McGurk, S., *Luhn, K., & Howansky, K. (2023, February). Perceptual conformity: Peer influence on perceptions of attractiveness. Society for Personalityand Social Psychology Annual Convention, Atlanta, GA.
*Brooks, Mackenzie, & Tickle, J. J. (2022, March). Autonomous Sensory Meridian Response: Online, offline, and during COVID. Poster presented at the 2022 annual meeting of the Eastern Psychological Association, New York, NY.
Mantell, J.M., & Steelman, R. (2020, November). Vocal production as a measure of linguistic associations between space and pitch. Posted presented at the virtual 61st Annual Meeting of the Psychonomic Society.
Bailey, A.M., *Steinhoff, B., & *Robey, K. (2019, October). Antidepressant efficacy of L655, 708 following infusions into the medial prefrontal cortex. Poster presented atthe 2019 Society for  Neuroscience Meeting, Chicago, IL.
*Thompson, R., & Mantell, J. T. (2019, August). Singing to learn: How melodic content affects encoding and retrieval. Poster presented at the Society for Music Perception and Cognition conference, New York, NY.
*Ertman, B. & Mirabile, S. P. (2019, March). Parental low negative expressivity and ignoring children's negative emotions: Implications for children's emotion regulation. Poster presented at the 2019 biennial conference of the Society for Research in Child Development, Baltimore, MD.
Williams, E. N., & *Shimoda, A. (2018, August). Problematic Empathy in Counseling and Psychotherapy.  Poster presented at the annual meeting of the American Psychological Association, San Francisco, CA.
*Haber-Sage, S., & Platt, R. (2018, May).  Changing attitudes towards the insanity defense. Poster presented at Forensic Mental Health Awareness Conference, Washington D.C.