Graduates of the psychology department at St. Mary's College of Maryland have gone on to pursue graduate degrees in many different fields. View our extensive alumni updates/careers database here!
These are just a few of their chosen institutions:
Dartmouth College
Drexel University
George Mason University
Johns Hopkins University
Harvard University
Loyola University of Maryland
McDaniel College
Michigan State University
Oxford University
St. Mary's College of Maryland
University of Illinois at Urbana-Champaign
University of Maryland School of Social Work
University of North Carolina, Chapel Hill
Yale University
Alumni work in a variety of fields, including but not limited to:
Aviation Administration
Counseling (e.g., mental health, marriage & family, school, rehabilitation)
Communications (e.g., web designers, advertising and social media specialists)
Education (pre-K – higher education)
Financial Services
Human Resources
Law
Library Science
Marketing
Medicine (e.g., doctors, nurses, pharmacologists, veterinarians)
Neuroscience
Occupational and Physical Therapy
Public Health
Real Estate
Research (e.g., analysts, associates, technicians)
Social Work
United States Armed Forces
No matter what path and field they chose, our alumni consistently say that their background in psychology has been extremely helpful in the workplace because it helps them to better understand the people they work with and serve. Read program feedback and  advice for current students from our psychology alumni!
For alumni browsing the site: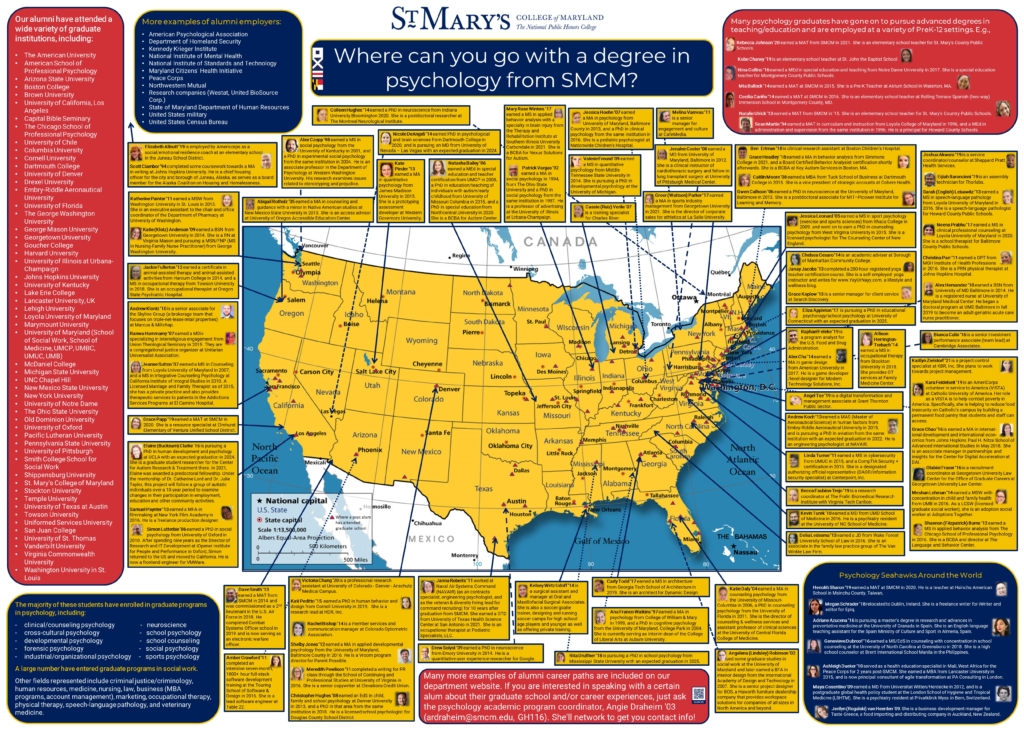 Recent Alumni Updates:
Katie Agate '21 is a business operations intern at ABSI Aerospace & Defense.
Mohammad Azimi Vahdat '18 is a residential counselor at Family Services, Inc.
Erika Blair '21 went abroad to teach English in Japan. She plans to later pursue a PhD in psychology.
Lacey Brown '18 earned a MAT from SMCM in 2019. She is an elementary school teacher for Baltimore County Public Schools.
Andrea Deleonibus '20 is a clinical assistant helping children with behavioral difficulties at Kennedy Kriegar Institute. She plans to pursue graduate studies in nursing.
Hannah Dietrich '21 is pursuing a OTD (Doctor of Occupational Therapy) at Mary Baldwin University with an expected graduation in 2024.
Rebecca Faubion-Trejo '19 is a research coordinator at The Fralin Biomedical Research Institute with Virginia Tech Carilion.
Kara Feidelseit '19 is an AmeriCorps VISTA at Catholic University of America. Her role role is to help combat poverty in America. Specifically, she is helping to reduce food insecurity on Catholic's campus by building a permanent food pantry that students and staff can access.
Raphael Feleke '19 is a program analyst for the U.S. Food and Drug Administration.
Lane Friedman '19 is a travel administrator at J.F. Taylor, Inc.  She is pursuing graduate studies at The Johns Hopkins University Whiting School of Engineering.
Mia Griffiths '19 is a registered behavior technician at Personalized Therapy, LLC.
Caitlin Henry '19 is an admissions counselor at University of Maryland Baltimore County with territory in Maryland, Virginia, Delaware, and North Carolina.
Kitt Klassen '16 earned MA in Counseling Psychology from Towson University and became a LGPC in 2022. They are an associate psychotherapist at the Maryland Center for Gender and Initimacy.
Stephanie Schoch '19 is pursuing a PhD in computer science from the University of Virginia with an expected graduation in 2024.
Angel Reyes '20 is pursuing a MPS in industrial/organizational psychology at University of Maryland, College Park with an expected graduation in 2022.
Rachel Solomon '17 earned a MA in human resource development from Bowie State University in 2020. She is a diversity and inclusion coordinator at Pathways, Inc. in Hollywood, MD.
Madison Tacka '18 is a therapeutic support specialist for Catholic Charities of Baltimore.
Rachel Thompson '19 is pursuing a PhD in neuroscience and cognitive science from UMD College Park with an expected graduation in 2025.
Angel Tse '19 earned a Microsoft Office Specialist Training Certification in 2019. She is a digital transformation and management associate at Grant Thornton Public Sector, LLC.
Serena Zhang '18 is a research fellow at National Institutes of Health.