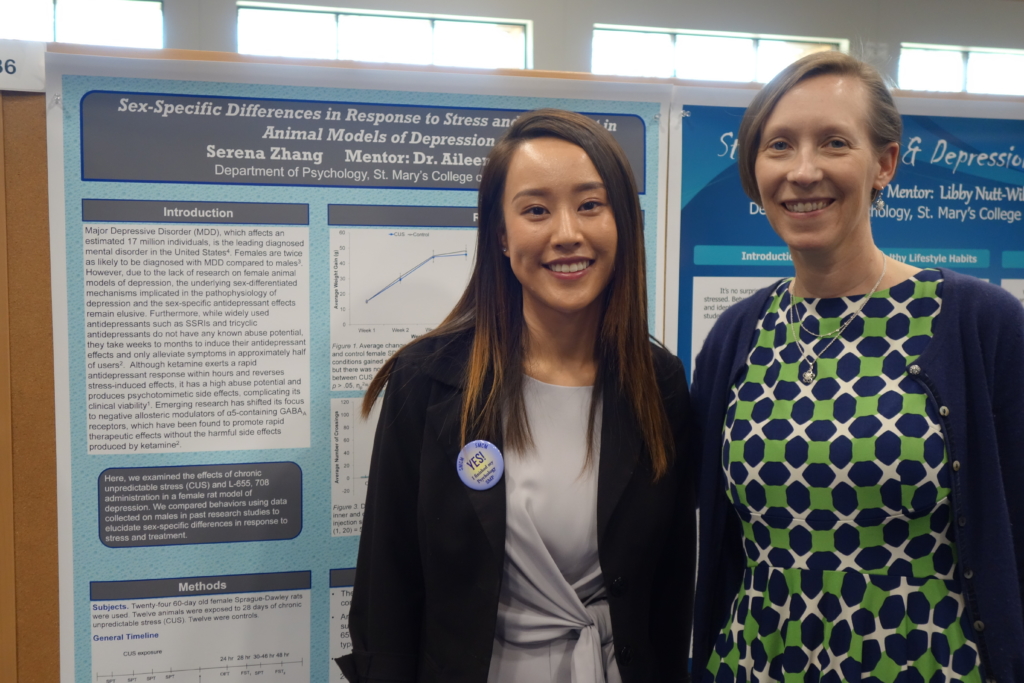 What is an SMP?
The St. Mary's Project is a year-long, 8-credit, independently designed and executed course of study intended as a capstone experience for a student's time at St. Mary's. Working in close conjunction with one or more professors, in or outside of the department, you have the opportunity to explore, in depth, a question or idea that entrances and intrigues you. Many—although by no means all—SMPs are interdisciplinary, bringing together threads from earlier classes taken across the curriculum. Many are highly personal, involving creative or innovative work that ties together four years of study in a meaningful way. SMPs can, in their final form, take the shape of research papers, collections of essays, anthologies of poetry, films, web sites, suites of paintings, graphic novels, operas—all these, and more, have been done in years past.
This project is typically completed over two semesters but can also be extended to additional semesters in special circumstances. Because it is a capstone experience, it must demonstrate the mastery that is ordinarily expected of a person receiving a BS degree. Specifically, your project must demonstrate (at a minimum) satisfactory performance in regard to the following criteria:
The College has established certain guidelines for the SMP:
It must be student-initiated
It must demonstrate methodological competence (by identifying an area to be explored and proposing a method of inquiry appropriate for the topic)
It must draw on and extend knowledge, skills of analysis, and creative achievement developed through previous academic work.
It must include a reflection on the social context, the body of literature, or the conceptual framework to which the project is a contribution.
It must be shared with the larger community through some form of public presentation
Psychology majors who started at SMCM in Fall 2018 (catalog year 2018-2019) and afterwards are required to do an SMP.  They can choose to complete an SMP in psychology, another major discipline, or a cross-disciplinary study area. If one is planning to complete an SMP outside of psychology, they must notify the academic program coordinator, Angie Draheim, by the end of the 6th week in the second semester of the junior year. If you choose to go this route, you will need to follow the policies established by those departments to declare your interest and/or solicit a mentor in the field you have chosen.
Psychology majors who started at SMCM before Fall 2018 (catalog years prior to and including 2017-2018) not required to do an SMP but rather can choose do the Alternative Capstone Experience instead.
---
SMP Process
Students usually work on their SMP throughout their senior year; in certain circumstances, however, one may choose to begin the project in the junior year, and finish it a term before graduation.
First year students and sophomores:
Explore Faculty Research Interests to learn about the areas of psychology at SMCM and keep track of favorite and interesting topics.
Don't be too specific, keep it broad
First semester of junior year:
Consider whether you want to collaborate with others. Note that collaborating with students will not necessarily make your work load easier.
Consider whether you wish to incorporate an off-campus experience (e.g., internship) into your project.
Consider whether you want to utilize the local public school system
Browse the PsycSMP abstract database,  and look over the PsycSMP showcase
Think about whether you want to do the project in your senior year with a traditional distribution of 4 credits in FA and 4 credits in SP or employ some other sequence. Other variations possible but not encouraged.
If you plan to start early, review/consider Faculty Research Interests (on website and hard copy outside Goodpaster 127) and talk to at least three (3) psychology professors about potential research topics in order to submit a SMP in Psychology Proposal Form to the academic program coordinator, Angie Draheim (Goodpaster 116), by the end of the 6th week of the semester (October 11, 2019) at 5 pm.
Second semester of junior year:
Narrow your choice to three topics
Discuss and develop your topic ideas with faculty members who might be good mentors.
Visit the Career Development Center and talk to the staff there if you want to include an off-campus component (e.g., internship) to your project.
Talk to the education facilitator in the Department of Educational Studies, if you would like to use the local public school system.
Decide if you will be collaborating with a fellow student.
Attend the Research Opportunities Showcase in late Jan/early Feb and review/consider Faculty Research Interests
Talk to at least three (3) psychology professors about potential research topics in order to submit a SMP in Psychology Proposal Form which is due by the end of the 6th week of the semester (February 28, 2020) at 5pm to the academic program coordinator, Angie Draheim (Goodpaster 116). Failure to submit the complete form by the deadline will place you last in the mentor selection process.

Watch out for e-mail from Angie (after the showcase) with links to various faculty sign up calendars for SMP topic discussion meetings.
---
How to choose a topic
Generally, Psychology SMPs are related to faculty research interest areas/research questions. What areas of psychology at SMCM or psychology faculty research interest areas/questions interest you?
What are your career interests?
Do you want a project to include specific experiences such as doing an off-campus internship or conducting on-site research?
What was your favorite class and why?
Would a topic from directed research be something you would like to pursue further?
Regardless of the form the SMP takes, all students working on a SMP in Psychology must have a Psychology faculty mentor and must complete an extensive review of the relevant literature. Students sometimes mistakenly believe that all SMPs in Psychology must conform to a specific model. You have two options. 
The first option is empirical: using data (newly collected, archival, interview, etc.) to answer a research question. This may, but not necessarily, involve hypothesis testing, and use of statistical methods to analyze the data.
The second option is project-based: applying what you learned from your literature review to create a product. For example: 
a book

( for "The Consequences of Negative Representation of People Who Stutter (PWS) in the Media," after completing a review and analysis of available media, student authored and illustrated a children's book with a main character who stuttered)

a handbook or brochure

("If #MeToo Happens To You: Research Driven Pathways For Survivor Recovery And Empowerment" created a brochure)

an informational website

("The Risks and Motivations for Nonsuicidal Self-injury among Adolescents and Young Adults"  resulted in the creation of

www.WhyStudentsSelfHarm.com

)

a project proposal

("Using Dolphin Assisted Therapy for Children with Autism Spectrum Disorders"),

or program proposal

("Prejudice Program Designed for First-year College Students"

a documentary ("Seeing Eye to Eye: Autism, Therapy and the Family" was created as an attempt to give a wider audience an appreciation for the intricacies, struggles, and triumphs involved in living with Autism).
---
SMP Forms
---
SMP Resources
SMP Blackboard Site
Current PsycSMP students should refer to the SMP Blackboard Site for departmental SMP guide, meeting and deadline schedule, budget process information and forms, statistics tip sheets, test and measurement information and more.
SMP Poster & Presentation Information
Funding an SMP
All PsycSMP students must prepare a budget of anticipated expenses under the guidance of their mentor. The proposed budget will include "student contributions." Student contributions are items and classroom necessities that students would typically cover at their expense.  These items include, but are not limited to, printing research articles, stationary, external hard drives, and local travel. College funds are available for additional support for things like long-distance travel, contractual services, lab supplies, and equipment. The average award is not expected to exceed $200, although it may be considerably more based on the circumstance.
Additionally, there are funds available to help current students present their SMPs at regional or national conferences.
---
Highlighted SMPs
Kara Feidelseit '19
"Effects of Social Class on Stigma Towards Mental Illness and Treatment"
mentor: Libby Williams
Rachel Thompson '19
"Singing to Learn: how melodic content affects encoding and retrieval"
mentor: James Mantell
Benjamin Ertman '18
"Is It Better to Simply Suppress My Negative Emotions? Effects of Parental Ignoring and Low Expressivity on Child Outcomes"
mentor: Dr. Scott Mirabile
Maxwell Madden '18
"Examination of the Mechanism of the Fast Acting Antidepressant L-655, 708"
mentor: Aileen Bailey
---
 Alternative Capstone Experience (for majors in catalog years prior to 18-19)
8 credits, distributed as follows:
PSYC 490: Senior Seminar (4 credits) generally involves a major term paper (~30 pages) on a topic of your choice, an oral presentation, and some additional requirements (for example, providing a review and critique of one or more of the papers written by other students in the class)
And an additional upper-division four credit course, not used to satisfy any other requirements for the major, chosen from the following options*:
PSYC 402: Advanced Research Methods and Statistics (4 credits)
PSYC 405: History and Systems of Psychology
PSYC 410: Service Learning
PSYC 474: Psychological Assessment
PSYC 497: Directed Research (4 credits)
An additional laboratory course in psychology
*As we are phasing out the ACE, options for the second 4-credit course are becoming more limited so it may be in your best interest to move toward the SMP.
Keep in mind that although the ACE will involve a different set of activities than the SMP, it will not involve less work. The two courses that make up the alternative experience are designed to require as much of a time commitment as an SMP. In fact, Senior Seminar is very much like the first semester of the SMP.
If you are planning to complete an ACE sequence in order to fulfill your senior capstone requirement, you must submit an ACE Declaration of Intent form to the academic program coordinator, Angie Draheim (GH 116), by February 28 of the second semester of your junior year.