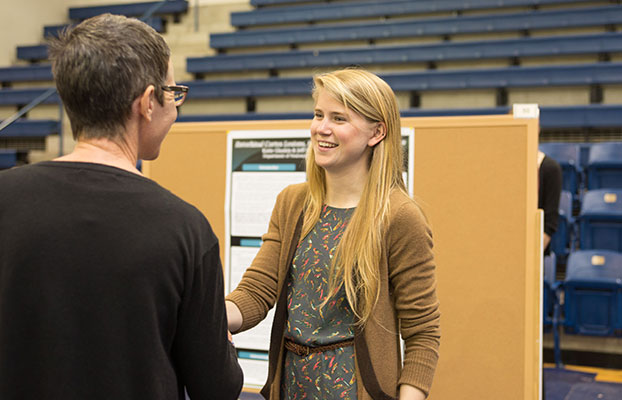 The St. Mary's Project (SMP) is a year-long, 8-credit, capstone of study at St. Mary's.
SMPs are an independently designed and executed course of study. Working in close conjunction with one or more professors, in or outside of the department, students have the opportunity to explore, in depth, a question or idea that entrances and intrigues them.
An SMP may take the form of a research paper or a creative expression of the arts. It may include collaborative work and build upon components of internships, study-abroad programs, and other experimental formats, as well as traditional research skills.
 SMPs in Psychology
A year-long intensive study of a particular topic generally related to a faculty mentors' research area/interests, culminating in a written thesis.
May involve:
empirical research conducted at St. Mary's
research conducted off-campus as a part of an internship or summer research program at another institution
library research on data collected by others to address a novel question and development of some accompanying component such as a program proposal, handbook, or website.
All students present their SMP to the Psychology Department as either an oral or poster presentation.
Some students go on to have their papers published professionally and/or presented at industry conferences.
Psychology SMP Showcase
Psychology SMP Abstract Database
Learn more about St. Mary's Projects
"Completing an SMP will make you stand apart when you talk to potential employers because you will be excited about it and it shows discipline and analysis skills. " Stephanie Klapper '10, Outreach Coordinator at Maryland Health Care for All!
Some recent examples of St. Mary's Projects:
I'm Mean to You, but I Like You: reciprocity of liking and disagreeable people
Ceara Daugherty '20 (mentor:  Gili Freedman)
Implementing Mental Health Programs into Grades K-5
Ethan Brennan '20 and Mary Beth Kappert '20 (mentor: Scott Mirabile)
Diagnosis Disclosure and Identity: how receiving a mental illness diagnosis impacts identity
Kara Feidelseit '19 (mentor: Ayse Ikizler)
Singing to Learn: how melodic content affects encoding and retrieval  
Rachel Thompson '19 (mentor: James Mantell)
Examination of the Mechanism of the Fast Acting Antidepresssant L-655,708
Max Madden '18 (mentor:  Dr. Aileen Bailey)