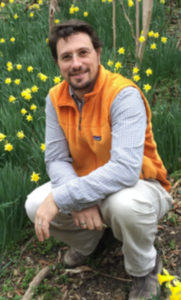 Barry Muchnick, Associate Professor of Environmental Studies, was recently awarded a three-year, $18,110 subaward as part of a $1.077 million National Science Foundation grant for a project titled: Developing a Next Generation Concept Inventory to Help Environmental Programs Evaluate Student Knowledge of Complex Food-Energy-Water Systems (NSF award number 2013373). The collaborative research project brings together researchers from University of Northern Colorado, St. Mary's College of Maryland, and nine other higher-education institutions across the country to develop a machine-learning program to assess students' understanding of the connections among food-energy-water concepts in their classes. Their ultimate goal is to improve teaching in college-level environmental studies courses by helping instructors make evidence-based decisions on how to best shape their students' understanding of complex systems thinking and sustainability concepts.
"Big data and the power of machine learning drive this project," Muchnick said, "but ultimately we are interested in how best to reinforce interdisciplinary connections, especially with regard to food, energy, and water systems." "I'm thrilled that St. Mary's College of Maryland environmental studies students are part of a national research effort to more effectively train the next generation of environmental leaders."
Muchnick's teaching and scholarship is concerned with how natural and cultural systems interact to form our ecosystems, experiences, institutions, and imaginations.