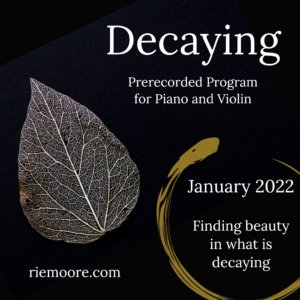 SMCM alumna and adjunct instructor Rie Moore '19 was recently awarded a Creativity Grant from the Maryland State Arts Council (MSAC) for her project titled "Decaying". The funding will cover expenses associated with creating a prerecorded audio-visual program for piano and violin on the theme of finding beauty in what is decaying. The filmed program will be made available virtually to the public for free via Moore's YouTube channel as well as embedded on her website.
Inspired by her experience at the Piano Festival by the River at SMCM, Moore began studying with Brian Ganz, a member of the piano faculty at the College, which eventually led to completing a degree in music through SMCM's second bachelor's degree program in 2019. She was awarded Alice Fleury Zamanakos and Arthur S. Zamanakos Prize in Music upon graduation. In 2020, she received the Regional Independent Artist Award from Maryland State Arts Council for her program "As if heard from within" and was selected as one of the 48 competitors to perform at the Cliburn International Amateur Piano Competition in 2022. Her latest project "Beyond Darkness", a prerecorded program sponsored by St. Mary's County Arts Council, was made available online in March 2021.
In "Decaying", Moore will explore beauty in what is decaying in a setting that communicates the theme through effective filming to reach audience members in a way that is different from the standard recital experience. Her desire to pursue the theme of finding beauty in what is decaying stems from her Japanese heritage as well as a wish to create a space that invites audience members to appreciate beauty beneath the surface and the process and journey of our living. The 45-minute program consists of pieces for piano and violin and poetry reading, categorized into three sections: Scenery, Thoughts, and Physical Existence. Prior to the premiere of the program, Moore will launch "Project Decaying", an initiative to invite artwork that expresses beauty in what is decaying from the community to create a space for contemplation on the theme as part of the community engagement.
The following collaborators will participate in essential program components:
Eliza Garth, a member of the piano faculty at SMCM (piano and poetry reading)
Beatrice Baker (violin)
Nick Hughes '12 (filming and video editing)
Sean Mercer (audio engineering, mixing, and editing)
Moore hopes to generate interest for her project during a TED talk titled "More Than Music: A New Approach to Concert Programming" at TEDxGreatMills on September 18, 2021.