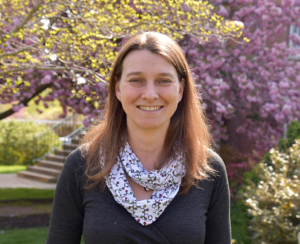 The American Association of University Women (AAUW) awarded its 2019–20 American Fellowship to Jessica Malisch, assistant professor of biology at St. Mary's College of Maryland. AAUW is one of the world's leading supporters of graduate women's education: Over the past 130 years, it has provided more than $115 million in fellowships, grants, and awards to 13,000 women from more than 145 countries.
"I am honored to be selected as an AAUW American Fellow," said Malisch. "A major career goal of mine is to write a competitive proposal to the National Science Foundation. This fellowship will provide me the time and resources necessary to develop an excellent proposal."
Malisch plans to use the fellowship to investigate the fitness consequences of the vertebrate stress response in white-crowned sparrows, to develop a new biochemical lab technique, and to apply for additional funding to maintain an active undergraduate driven research laboratory.
"The support of AAUW is giving me a major career boost that will help me accomplish my academic goals and my career aspirations," said Malisch.